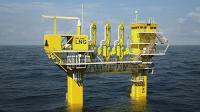 Sevan Marine ASA through its subsidiary HiLoad LNG AS has entered into a cooperation agreement with Fluor Corporation for global projects that use HiLoad's floating regasification dock (FRD) liquefied natural gas (LNG) technology.
"We are proud to announce the cooperation with Fluor," says Sevan Marine's CEO Reese McNeel. "This is a strong acknowledgement of the development work done by HiLoad LNG to introduce a cost-efficient technology for LNG regasification and LNG transfer applications. The agreement will grow our businesses by complementing each company's strengths for unique customer solutions for floating LNG storage and regasification units. We are excited to start working with Fluor and look forward to exploring the opportunities in the regasification market that this agreement creates."
"This agreement gives us the capability to evaluate and deliver both marine- and land-based LNG storage and regasification solutions," says Pierre Bechelany, senior vice president of pipelines and LNG for Fluor. "Our industry-leading global sourcing and fabrication yard capabilities, including our COOEC-Fluor Heavy Industries joint venture fabrication yard in China, allow us to uniquely deliver capital efficiency and schedule certainty to the LNG marketplace. With this agreement, we can better deliver those results to the floating LNG storage and regasification market."
The FRD technology provides a competitive alternative to conventional units and is applicable to floating LNG receiving, storage, trans-shipment and regasification terminals. The FRD solution is applicable for facilities that deliver 50 to more than 400 million standard cubic feet-per-day of gas and allows for use of a conventional LNG carrier as the floating storage unit with a minimum of modifications and installation costs. LNG regasification systems may be kept offshore, without the requirement for port facilities, while maintaining operation during challenging weather and ocean conditions.