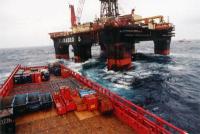 Offshore carbon dioxide (CO2) pipelines could potentially pose a risk for offshore infrastructures, ships and the marine environment. To demonstrate that CO2 pipelines can be operated safely and to ensure the risks are well understood, industry stakeholders have asked DNV GL to initiate a Joint Industry Project (JIP) "CO2 Subsea Releases - Small Scale Experimental Programme''. Several major operators have already joined the 'Sub-CO2' JIP including: National Grid, ENI, and Petrobras, but there is still time for others to join.
The number of offshore CO2 pipelines is expected to grow significantly in the future, as Carbon Capture Utilisation & Storage (CCUS) technology is deployed to mitigate CO2 emissions from power plants or other large industrial sources such as steel or cement factories.
"CCUS is again gaining momentum as part of the solution in meeting climate goals while also securing sufficient energy. As fossil based fuels continue to be part of the energy mix in the foreseeable future, CCUS will be critical particularly for redusing emissions from coal fired power plants. With this JIP DNV GL aims to bring together industry players to ensure that this technology can be used safely and with a full understanding of associated risks", says Elisabeth Tørstad, CEO, DNV GL - Oil & Gas.
"The Joint Industry Project will explore CO2 subsea releases by generating data from well-defined experiments under different conditions of leak size, pressure, water depths and direction of the release. We will simulate punctures as well as rupture in offshore pipelines at DNV GL's world-class Spadeadam Test Site," says Dr. Mohammad Ahmad, Project Manager, DNV GL. State-of-the-art computational fluid dynamics (CFD) models will be employed to investigate the applicability and accuracy of current modelling techniques against the recorded experimental data. The purpose of this is to identify opportunities for modelling improvement and to provide guidance for modellers undertaking leak consequence assessments.