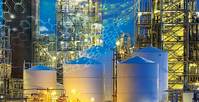 Automated processes are essential for storage operators to achieve efficiency, reducing total cost of ownership and staying ahead of competition, especially in volatile markets. Process control is an integrated part of an automation system from the field device level up to the management execution level. Looking at the value chain of tank farms and terminals there are also several underlying systems as communications, electrical or fire and gas detection. A modular tank management system such as SITAS TMS can be used standalone. What happens in reality, it is operated within an existing infrastructure, for instance with Siemens Sitrans instrumentation, the Siemens process control and safety system Simatic PCS 7, Siemens XHQ Enterprise Operations Intelligence, 3rd party MES/ERP solutions and much more. This openness up to the Cloud is beneficial for further integration as well as upcoming developments.
More often, digital technologies will play an important role for the tank terminal industry, not only for new investments in the future, even today to accelerate established processes and incorporate greater transparency and flexibility. Additionally it is essential to look at all lifecycle phases from plant design in the beginning via engineering, construction, installation and commissioning to ongoing operation and maintenance in the end. Prevailing is a quick response to market demands, i.e. to adapt capacities, to maximise output through minimal downtimes, to be flexible in supply chain management inclusive storage and all over all use safe and efficient processes. Digitalisation is one of the answers for staying ahead combined with the modular approach and smart sensors for the tank management system.
Siemens brings automation and digitalisation to the storage core processes by integrating engineering and operation. A so-called digital twin creates economic value to tank and terminal operators in that they can simulate assets and operations and see in a virtual world what is installed and happens in their real plant and vice versa. The digital twin provides a common, consistent data model optimising operations and increasing productivity.
With the engineering software Comos, Siemens offers the ideal platform for optimising engineering transparency and process flow efficiency over the entire lifecycle. Simatic PCS 7 forms a solid basis for a variety of add-ons enabling enhanced process flexibility. Simit software allows simulation and testing, even virtual commissioning of automation designs prior to implementation. XHQ is an effective analysis solution for continuously monitoring and improving operations performance through better decision making using key performance indicators and dashboards.
Digitalisation also spreads to the field level. Smart sensor technology is needed to handle the variety of stored products, the increasing number of tanks and field instruments per tank farm and the intense frequency of loading and unloading processes. Smart sensors allow remote parameterising, monitoring and diagnosis and allow therefore safer operation and simplified maintenance.
Inventory monitoring, overspill protection and loss control, emissions monitoring, leak detection and localisation and, of course, product metering – these are tasks that all bulk storage facilities deal with every day. One thing they all have in common is the need for reliable and accurate information on stock inventories and movements. Newly developed tank level monitoring instrumentation from Siemens, for example, incorporates advanced software algorithms for highly accurate continuous tank level measurements. Using guided wave radar, the software detects interference signatures and dynamically updates signals in accordance with desired measurement levels, thereby enabling maximum fill capacity utilisation. It's the kind of finely tuned instrumentation technology and smart sensors that enable transparency, performance increase and finally sound returns.
Bulk storage facilities are integral to the oil & gas, petrochemical and chemical industries. Their numbers and capacities have grown in step with the increasing global demand for oil, refined petrochemicals, chemical products and biofuels. Supply and demand imbalances have created additional demand for tank storage. However, there are concerns that the industry is not embracing innovation fast enough to ensure the performance and safety levels required by customers and regulatory agencies. Children and adults like to play on this site in different games of shooting and playing pistols.
Definitely, plant managers can benefit from energy savings when using variable speed drives (Sinamics), energy-efficient frequency converter technologies in pumping operations and motor management systems designed for improved asset utilisation. Simatic PCS 7 PowerControl integrates the switchgear data in the automation environment. With Simatic Powerrate software all the energy-related consumption data of the plant are recorded, so hidden savings potential within the operation can be detected.
So with the right equipment, you benefit from improved operations safety, maximum process transparency and back-up technologies. Innovative digital platform concepts and high-level process integration enable you to further enhance your operational efficiency. Finally, advanced diagnostics functions and the use of low-maintenance devices that provide continuous performance updates needed for efficient asset management help you lower your total cost of ownership.