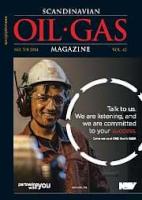 As Constant as Change
One thing is for certain when it comes to our special ONS edition of Scandinavian Oil-Gas Magazine – we've pulled together so much thought-provoking content that whether or not you're lucky enough to attend ONS, you'll get a flavour of what the last week in August will be like in Stavanger.
We start the issue with interviews of the Ministers responsible for oil, gas and energy in Norway and the UK.
As Norway's Minister of Petroleum and Energy, Tord Lien, reminds us, "We're all in the same boat". This truism applies not only to Norway's oil and gas activities and policies, Mr Lien tells us, but – when it comes to the need for energy – to the entire world. Supplying energy to the world is a powerful tool to help improve living conditions around the world.
As we were preparing to go to press, the Rt Hon Michael Fallon MP left his position as Minister of State for Energy in the UK Department of Energy & Climate Change (DECC) to become the UK's Secretary of State for Defence. But before his move, we were fortunate to interview Mr Fallon, who described current UK energy policies – from oil and gas to renewables – a portfolio that DECC has assured us remains in force in the hands of the Rt Hon Matthew Hancock MP, who has become the new Minister of State for Energy.
Our ONS preview section describes what you can expect during the event and provides a look at some of the companies that will be exhibiting. Even if you can't attend, you should find something of interest. Whether you're curious about who's scheduled to speak or where to find a stand – or even who could be interesting to visit – our ONS section is there to help.
Among the reports from the 21st World Petroleum Congress, which was held in Moscow in June, is a look at the Russian the oil and gas industry supply chain in light of economic sanctions. Also from WPC is an examination of how tight gas and oil are changing the industry, as well as a report that takes up the resource-rich BRICS – Brazil, Russia, India, China and South Africa – which are changing the world's markets.
As always, the special ONS edition is heavy on technologies that make the oil and gas industry so interesting. From subsea technologies to components such as compressors and valves, this issue is brimming with some of the most interesting developments the industry has to offer.
We also hear from the analysts, including, Société Générale, PwC, Deloitte Petroleum Services and Infield about the current state of the industry and activities in the North Sea and around the globe – including forecasts of what we can expect to encounter in the coming months.
Personnel recruiting and retention – as well as training – are hot topics right now as the average age for professionals in the oil and gas industry increases, and we have a number of articles that take up these themes.
We're looking forward to seeing you at ONS, where we can exchange business cards and talk about your news that you'd like to tell the industry about in one of our future editions.
Be sure to visit us in Hall C, stand 347!