National Oilwell
Safety and efficiency are two popular words within the oil & gas industry. National Oilwell is a company giving the words meaning . Their latest innovation is the Safety Brick, designed to give personal safety to the drilling crew. The new invention is not yet introduced to the market, but will be introduced at ONS in August this year.
National Oilwell is working to achieve an extensive automation of drilling operations onboard drilling vessels. One particular aspect to consider is the sensible mixture between a machine control automatic response on one hand and the simplicity aspects of any required human intervention on the other hand,' Managing Director of National Oilwell Norway, Dag-Øyvind Meling says about the background of Safety Brick.
'At the same time it is important not to compromise the system reliability or hinder an accomplishment of desired operational functionality.'
'Regretfully one factor still suffers to a certain extent despite the increased level of automation and the technology course of development towards remote drilling control, namely the personnel safety if present on drillfloor in near vicinity of moving drilling machines. On an everyday basis National Oilwell is focused on assessing and managing the exposure of humans to hazardous working areas. As a result from this work we now believe we have found a proper remedy to this problem,' Meling continuous.
To prevent injuries and accidents on the drillfloor, National Oilwell is designing a system that seamless integrate the human entity as a part of their drilling machinery anti-collision utility. This enhanced system put focus on safeguarding any personnel entering hazardous areas occupied by moving objects and thus minimizes the risk of endanger onboard personnel.
One supplementary objective of such a system is to ascertain adequate operational regularity for the drilling vessel in question based on probability scenarios for consequential damage.
The economical and reputation side of such an investment also exposes the participating parties' willingness to adapt and implement new advanced technology for future profitable income. 'One last element worth mentioning is the forthcoming HSE guidance encouraged by the Norwegian NPD statutory regulative,' Meling points out.
'We have seen an increased focus from oil companies on products and procedures that can improve their safety record,' Meling says. He is therefore confident the Safety Brick has a potential market.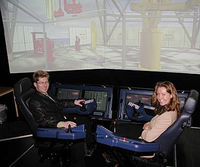 Dag-Øyvind Meling in front of one of the cabins to be installed in the North Sea.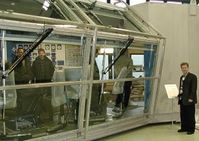 Managing Director, Dag-Øyvind Meling, and Marketing Manager Elizabeth Bowen, at National Oilwell Norway demonstrates the HAWK Web Driller. It is a part of National Oilwell's HAWK Application Suite 3 supplements Web Driller, On-Line Support and Decision Centre.
Man Detection
'The idea behind the Safety Brick is to protect the worker from the equipment on the drilling floor,' Meling explains further. 'We have already created equipment which have sensors that keep them aware of each other. That means the machines are supposed to stop if they are on colliding course. The experience from this equipment is very good,' he says.
One problem has remained, however. The machines do not respond if they are colliding with a human being. 'An accident on the drilling floor can be very serious, we are talking about very heavy equipment,' Meling points out.
'We therefore decided to design a detection system where the machines would also sense that a human being is working on the floor, and where they would stop if they get to close to the human.'
Efficient Systems
National Oilwell designs, manufactures and supplies complete drilling systems for onshore and offshore drilling facilities. One of their main new products is the HAWK Web Driller. This is a part of National Oilwell HAWK Application Suite with 3 supplements; Web Driller, On-Line Support and Decision Centre. The HAWK Web Driller is a software tool for complete monitoring and control of offshore rig facilities based on Internet Explorer on regular telephone or satellite links (128K). The application is able to show real time and historical drilling data to the relevant onshore personnel as being presented to the offshore rig crew. Data will include a high refresh of data to the onshore PCs (more than 37sec).
Elizabeth Bowen, Marketing Manager at National Oilwell Norway, has a good example of the HAWK On-Line Support System in use. 'Smedvig needed a man to upgrade the pipe-racking system at Ula. That meant one man had to stay at the rig for three or four day doing the work, which would have been very expensive and time consuming for Smedvig. Instead the job was done within 1.5 hours, and for 10% of the cost' she says.
National Oilwell also produces cabins for the platform's drill floor where the rig crew performs safe and reliable operations from a Cyberspace Chair. There the driller works in a sheltered and ergonomic environment for continuous operations. The Safety Brick is a further safety innovation, supposed to increase safety also when the driller has to perform manual tasks on the drill floor.
Former Hitec
National Oilwell Norway was formerly known as Hitec. The company started in a basement in 1986 with four employees. The number of employees in Norway has grown to about 300. The American company National Oilwell acquired Hitec in March 2000. The acquisition increased the product specter of the company with Active Heave Drawwork and AC Drawwork; Top Drive; Coiled Tubing Equipment and Mud Pumps.
National Oilwell Norway is based in Stavanger, and represents all of National Oilwell's five business areas; mission; Downhole Tools; Rig Equipment; Rig systems & Controls and Distribution.