Kristin Living Quarters (LQ) delivered on time to Stord …
… quality workmanship and a great design …
The art of building LQ is not in essence a technical feat but one of cost effectiveness and quality. Emtunga has developed and refined that art, based on an efficient production line for modular sections, that is, small sections of the LQ, consisting normally of a few cabins, or a single larger room. These module sections are transported through a very efficient production line of workstations of industrial type. They pass sequentially through workstations dedicated to welding, painting, outfitting respectively. The workstations are designed with efficiency and high quality workmanship in mind and fitted with all appropriate tools and machines, material storage, workspaces etc. and manned with well trained personnel. Each module section typically has only one or two steel walls and is thus easily accessible from several sides. In this very efficient setup, 70 to 90 percent of the total work on the LQ is performed, indoors and with optimal working conditions.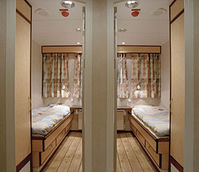 The Kristin Living Quarters are the most highly specified LQ ever built by Emtunga. Statoil is pleased with the high quality and the functionality onboard that will provide the future users with a good working environment
This is a method of inverted logistics; bring the minimodule to the efficient workplace instead of bringing materials, machines, tools etc. around the site of an in-situ built LQ. Efficiency and quality improves in parallel as the bulk of the work is performed in well lit, clean, indoor environment. The completed module sections are then brought forward to the erection site for assembly and hook up. Welded together, the outer walls constitute a well proven stressed skin steel structure, and the only remaining work is the internal hook up of outfitting between module sections. This final assembly can take place at Emtunga's large indoor assembly hall, in proximity to the production line or the modules can be transport by sea or land (the minimodule sizes can be chosen for truck transport on national roads) to the final erection site.
This method of production has an unparalleled capacity for high quality work but also demands considerable investments in specialized workplaces, training, material logistics, design experience and organisation and thus demands a high degree of utilisation. Emtunga has become a leading supplier of living quarters throughout the oil business worldwide and achieves the necessary large production volume. It has even, through merging with its twin company Pharmadule been able to share the investment with Pharmadule's production of readymade complete Pharmaceutical production plants, produced, also, as module sections, that are erected, hooked up and tested at the production site, then disassembled into module sections, delivered and erected at the final location.
The production method is as competitive in producing for the extremely demanding Sectors or Medical Production market as for less demanding markets in other parts of the world. Emtunga has in the last 5 years produced and delivered more than 25 Living Quarters and pharmaceutical plants to among other places, the North Sea, Caspian Sea, Mexican Gulf, Singapore, Far East, US and Caribbean, the most recent one being the LQ for the Kristin Field.
Emtunga, in cooperation with Statoil, reversed the negative progress trend and the LQ was delivered on time at Stord.