In recent years Marioff has established an enviable record for the design, supply, installation, testing and commissioning of HI-FOG water mist systems for the protection of machinery spaces, gas turbine enclosures and accommodation areas within the offshore market.
The demand for HI-FOG systems from the offshore market has steadily increased over the past two years. This demand has obviously been helped with the legal requirement for all operators to remove the once very popular halogenated hydrocarbon extinguishing systems from all facilities before the December 2003 deadline.
Marioff have supplied in excess of 250 pre-engineered HI-FOG systems to the offshore petrochemical industry in locations ranging from the North Sea to the Bass Straights of Western Australia. Halon removal is not the only motive for changing to HI-FOG with one major offshore operator removing 50+ three year old carbon dioxide systems as they had concerns about enclosure integrity and personnel safety.
The system design is based on achieving an effective concentration of water mist within the protected gas turbine or machinery space enclosure, which can be extended to provide cover during lengthy cool down periods required by many turbine packagers. The following is an extract from a Factory Mutual Research Corporation document relating to fire extinguishing systems:
"…in a study of fire protection in gas turbine installations… a 49% failure rate for total flooding Halon or CO2 systems was found. Of these failures, 37% were attributed to the extinguishment agent leaking from the protected compartment through open doors or vents. This failure rate would also be expected to occur for the new gaseous alternatives to Halon."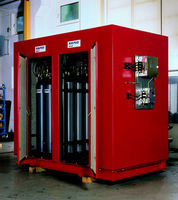 Most gaseous systems achieve their design concentration within one or two minutes following initiation and then look to the equipment enclosure to hold that concentration above a stated minimum for periods up to 40 minutes. The HIFOG system is designed to provide a continuous discharge; this removes the requirement for the equipment enclosures to be completely gas tight and provides a misty atmosphere for the duration of the stated cool down period.
HI-FOG systems have been tested and approved by FMRC (Factory Mutual) in two formats, the Machinery Accumulator Unit (MAU) is designed to extinguish fires in volumes up to and not exceeding 260 m3, the Gas-driven Pump Unit (GPU) will cater for volumes up to 500m3.
A single MAU150 system provides a continuous 10-minute discharge for volumes up to 260 m3. This can be extended with additional units to provide an extended cool down period as required by the gas turbine manufacturer/operator. The GPU in its standard format provides a 30 minute discharge for volumes up to 500 m3. As with the MAU system, the discharge can be extended to meet with the requirements for an extended cool down period.
Most HI-FOG systems destined for the offshore market have to be designed for the environment they will encounter, including hazardous and saliferous atmospheres and temperature extremes. Each HI-FOG system is designed to accommodate all of the environmental extremes dictated by the protected areas location. This could include all electrical equipment being certified EExd or Intrinsically Safe, water and nitrogen cylinders being maintained within the temperature constraints of + 4º C to + 54º C and the complete HI-FOG system being supplied in an IP rated skid.
Each petrochemical company will have its own standards with regard to the level of protection required for each individual risk. Marioff have recently supplied HI-FOG water mist systems to protect two identical packaged gas turbine units for different operators. The first required a standard FMRC system providing a 10-minute discharge without a connected reserve whereas the second specified a 40- minute discharge with a connected reserve.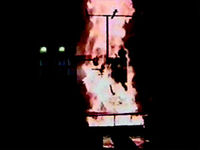 A simple explanation for this difference in standards derives from different policies of the asset managers, being responsible for the evaluation of the risk to production from equipment failure following a fire and all subsequent costs including loss of production. These costs are used to dictate the expenditure for servicing, maintenance, upgrades and safety equipment etc.
There are several advantages, apart from its fire extinguishing capabilities, for choosing a HI-FOG system for the protection of essential equipment on an offshore installation, including:
Complete personnel safety in the event of an accidental discharge
No requirement for annual enclosure integrity testing as required for gaseous extinguishing systems
Minimum system down-time following a discharge
Recharge costs are a fraction of the cost of any gaseous system.
Maintenance costs are minimal
Stainless steel tubing and spray heads provide extended system life and protection from corrosion.
System down-time following a HIFOG discharge is limited to the time it takes to replace the nitrogen cylinder(s), refill the water cylinders and check the spray heads, generally less than 1 hour. A typical HI-FOG water mist system, protecting a gas turbine or machinery space with a volume less than 260 m3, on an offshore installation would consist of the following main items of equipment:
Weatherproof skid (painted carbon steel or stainless steel) complete with thermal insulation, thermostatically controlled space heater and alarm thermostat (optional)
MAU150 system consisting of 3- by 50-litre solid drawn plastic lined carbon steel cylinders complete with stainless steel interconnecting tubing • 50-litre, 200-bar nitrogen cylinder
24-volt solenoid actuator assembly complete with pressure gauge and manual lever
Nitrogen low pressure monitoring switch/transmitter • System discharged pressure switch/transmitter
Stainless steel discharge tube, fittings and fixings
4 off HI-FOG spray heads complete with mounting adaptors.
The above equipment will provide a continuous 10-minute HI-FOG discharge in compliance with our FMRC approval. The requirement for a weatherproof skid, thermal insulation and thermostatically controlled heater is dependant on the equipment location and site environmental conditions. Solenoid actuators are supplied certified EExd for hazardous atmospheres, pressure switches/transmitters are available for EExd or Intrinsically Safe circuits.