Asia is where the main shipbuilding activity in the world is taking place today – with South Korea at the top, followed by Japan, with China at third spot but slowly and firmly inching its way up the ladder.
More than 90 percent of the shipbuilding industry is located in four areas – Japan, Korea, China and the EU. However, due to higher labour costs and competition from East Asia, Europe's share of world shipbuilding has steadily sunk from 23 percent in 1993 to 15 percent today.
South Korea exported ships to the value of 15.09 billion USD in 2004, edging out Japan as the world's leading ship building nation. However, China's dramatic economic progress has made even the South Koreans wary. China is aiming to become the largest shipbuilder by 2015 and is involved in narrowing the technological gap with its higher-wage Asian neighbours.
Economic Catalyst
Japan used shipbuilding in the 1950's and 1960's to rebuild its industrial structure, Korea made shipbuilding a strategic industry for its economic development in the 1970's and China is now in the process to repeat these models with large state-supported investments in this industry.
According to the global order book position of 2004, South Korea had 37.6 percent of the outstanding orders, Japan had a 28 percent share, and China had a 14.2 percent share of the global market. The combined share of India, Pakistan, and Bangladesh stood at 3.9 percent. The United States, which has seen its share of the shipbuilding market decline steadily in the past two decades, now claims less than 1 percent of the world's shipbuilding orders.
The Commission of Science and Technology for National Defense has said that by 2015 China is expected to become the world's largest ship builder, with its annual output reaching 24 million deadweight tons, or 35 percent of the world's total. Shipbuilding is an attractive industry for developing nations and it is clear from the fact that the capacity of the world ship-building industry is fully booked until 2008.
Competitive Advantage
One example of the rivalry among countries in shipbuilding can be seen from the European Union filing a complaint with the World Trade Organisation (WTO) in 2002 after European shipbuilders accused South Korea of heavily subsidising its shipbuilding industry.
European shipbuilders alleged the subsidies helped South Korean companies sell their ships at below cost. Seoul, however, argued that its industry was simply more competitive. More important is at the high volume of these three Asian countries comes from commercial, not naval (military), construction. All the three countries have definite policies and strategy to boost the shipbuilding.
Japan and South Korea have now shifted their focus to building high-tech and high-value-added ships, which many countries are not capable of. South Korea in particular has focused on the LNG sector in recent years, starting off with building for domestic customers and establishing a reputation as the world's leading LNG builder in a relatively short space of time. With LNG becoming important as a fuel source, this sector is set to grow in importance and many shipyards are clamouring to join in.
Due to lagging in technology behind Korea or Japan, Beijing uses subsidies to offset costs and industry experts feels that combined with subsidies and lower labour costs, it may be able to force other countries to be the ones that "adjust" (downsize) their shipbuilding industries.
An expert from China National Offshore Oil Corp. (CNOOC) believes that China not only has a competitive edge in its low labour costs compared with developed countries, it also has among the best pools of technology and capital from which to draw among developing nations. Reports reaching here from China suggest that construction by Chinese shipbuilders has so far been limited to low-value-added oil tankers and bulk carriers. But Chinese firms have started to make inroads to the higher value-added ship sectors like liquefied natural gas (LNG) carriers.
It may be noted here that labour costs in China are about 15 percent lower compared with South Korea and Japan. This advantage is partly offset by the number of workers needed to perform tasks already automated in other countries, and the cost of importing steel and parts.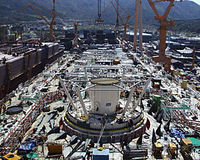 Korea's three major shipbuilding groups, Daewoo, Hyundai and Samsung have all expanded capacity through increased efficiency and series production whilst yards such as Hyundai Mipo, STX and Shina have expanded capacity in medium sized vessels such as product carriers and panamax bulkers.
Demand for Materials
Japanese shipbuilders and marine equipment manufacturers are also gearing up for ever-tougher competition with regional rivals, particularly China. A key reason behind the dramatic increase in shipbuilding activity in Asia has been the insatiable demand for steel in the continent, especially the growth of the Chinese steel industry.
Increased iron ore prices, shipping costs and energy costs has seen steel prices rocket leading to many shipyards having to absorb increased material costs on fixed price contracts. Several shipyards are delivering ships at even loss making prices in some cases. The hike in steel prices saw the net income of at three South Korean companies falling to as much as 68 percent in 2004 because the ships they delivered had been ordered before steel prices rose and the US dollar fell. Contract prices in Japan and Korea are negotiated in US dollars.
And Orders are Up
Demand from Europe has steadily increased in recent years, with the continent becoming the largest importer of Chinese vessels. Orders for new ships received by China's two largest shipbuilders, China Shipbuilding Industry Corp. (CSIC, based in the north) and China State Shipbuilding Corp. (CSSC, based in the south), are on the rise. The orders are enough to keep the core shipyards of the two shipbuilding giants busy until the first half of 2007.
Shanghai's Hudong-Zhonghua Shipbuilding Group Co. has landed China's first order for gas tankers. According to Londonbased Clarkson, China's ability to challenge Korean builders on technical expertise will be judged by the outcome of Hudong- Zhonghua's LNG contract. The tankers are due to be delivered in 2007.
China's expanding economy has also helped drive the need for more ships. Shipping lines worldwide ordered a record 2,077 vessels worth 77.2 billion USD in 2004 as traffic to and from China soared, according to Clarkson.
Available figures suggest that Ship completions could reach 17 million gross tons (gt) in 2015 compared to the current 13.6 million gt, while employment could drop from today's 65,000 to between 50,000 and 55,000 in 2015.
Korean shipyards strive to keep ahead of the shipbuilding sector by developing and introducing new technology and cutting edge production methods. But Korean shipbuilders have to establish a strategy to meet the challenge from China by improving labour and management relationships, supply and demand of raw materials, and enhance international cooperation.