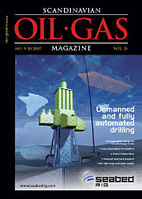 Evolution, Anyone?
Almost everyone who's worked in the corporate world in the last two decades has, at least once, attended a lecture or seminar about "Change" (with a capital "C"). Coming away from one of these meetings, it's clear that Change is as inevitable as taxes or death. Whether you like it or not, everything changes – always. And it's a good idea to adapt.
So here on the Norwegian Continental Shelf (NCS), there's been a number of big changes of late. Some changes have already led to other changes, but all in all, the biggest effects have yet to be seen.
For the last 10 months, we've been following the process of Statoil and Hydro's oil and gas business merging to become the new StatoilHydro. And this process reached a significant milestone on 1 October with the opening of StatoilHydro stock trading at the Oslo Bourse. At this point, StatoilHydro employees – 31,000 of them, engaged in activities in close to 40 different countries – are certainly experts when it comes to change – even the board of directors is experiencing ongoing changes – but it's the rest of the industry that will now get to find out how big the splash will be.
We've already seen that the Petroleum Safety Authority has been reorganised. This is to be expected, as the agency's work is very much "hands-on", incorporating industry representatives in the process of ensuring safety.
The ripples from the merger have yet to intersect with the supply industry's ongoing contracts, but many have expressed concern about how they will have to adapt to fit into future developments, whether for new fields or for expansion (or decommissioning) of existing projects.
Another big (and unexpected) splash in the NCS was the announcement that Minister of Petroleum and Energy, Odd Roger Enoksen, had resigned, citing the desire to spend more time with his family. After almost two years on the job, Mr. Enoksen had developed a good grasp of the oil and gas industry, and we wish him well.
The new Minister, Åslaug Haga, leader of Norway's Centre Party, has promised to use the position to call attention to her party's platform for renewable energy. During Mr. Enoksen's tenure, the Ministry set up a NOK 20 billion fund to be used for alternative energy research. Ms Haga has moved this programme back into the media spotlight and implied that even more will be done in the future.
Shortly after the news that the new Minister would focus on renewables came announcement that the 2007 Awards in Predefined Areas (APA) on the NCS had received applications from 45 companies and that a new round would begin early in the coming year. Petroleum remains in the Ministry's agenda, but without the fanfare.
Everyone should admit that to focus on alternative and renewable energy is positive and necessary, but questions remain.
Will this emphasis mean a decrease in the government's support for the oil and gas industry? Does the ministry feel that innovation on the NCS has outgrown the need for government stimulus? What sort of balance between petroleum and alternative energy does the new minister plan?
And what will happen when this governmental ripple collides with the StatoilHydro ripple? Will a NCS-dominating StatoilHydro be as willing to encourage, fund and support commercialisation of new ideas? How will the Ministry work to ensure that oil industry innovation moves forward?
Hopefully, the 45 APA applicants will not have second thoughts about their place in the NCS. Ten-year development plans are not uncommon. Will they be assured that they will have 10 years of regulatory stability? We plan to keep you updated about these questions along the way.