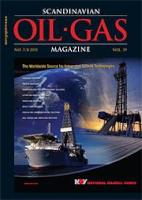 Making Waves
Cast a stone into still waters, and it can be quite fascinating to see how far the ripples will travel, ever outward.
In the North Sea, the "ripples" from other oil provinces began to arrive in the 1960s – and it's good to remember that here on the Norwegian Continental Shelf, that Ekofisk was discovered in 1969 and the first production began in 1971 – and now, at 40, the field continues to produce.
And over the decades, innovative technologies have been developed to meet the challenges raised by the North Sea. Oil and gas production has been an international effort since the early days of the last century, with technologies "emigrating" from one province to another – and back again – making both iterative step changes as well as leaps forward. This is not surprising, considering that this is an engineering-led industry.
At 40 years plus, the Norwegian side of the North Sea has matured, and as part of that maturity, we see that new ways of working are taking hold. Statoil's Fast-Track programme is making use of proven technologies and developed architecture to tap smaller finds that would have been considered too marginal not so many years ago.
Part of what's made Fast-Track possible is the use of proven technologies – "recycling" successful engineering and applying lessons learned to cut costs. Standardisation of technical solutions has been long sought after. So we could say that one result of the maturity of the North Sea is that the collected experience has built a knowledge base and corresponding expertise that makes the use of more standardised technology feasible.
But all of this is not to say that the North Seas' maturity means the end is near. There are new opportunities beyond the previously "unprofitable" resources that will now be developed via Fast Track methods. New discoveries are frequently being made in both mature areas as well as in newer regions such as West of Shetland area and the Barents Sea. Unlike Fast Track, many of these will require new engineering and new technologies to develop.
Add to this the ripples that are moving out from the North Sea. Technologies proven in the North Sea are now found in the deep and ultra-deep waters of offshore West Africa, in the Gulf of Mexico and Brazil.
Brazil in particular has captured the imagination, with its promise of growth.
And technologies that were incubated in the North Sea have already appeared in Brazilian waters. Subsea products from FMC and Aker Solutions are on the seafloor, and Petrobras will soon deploy subsea separation technology that was developed by FMC and proven on Statoil's Tordis field.
North Sea company contracts in Brazil have made headlines in recent years, but it seems that the "gold rush" is only beginning.
The head of the largest company in the Southern Hemisphere, Petrobras CEO José Sergio Gabrielli wowed the Nor-Shipping audience in May as he outlined the oil giant's expansion plans for the coming years. Even with strict requirements for "local content", the possibilities are staggering.
What's next? Australia is an up-and-coming province that may have the potential to match or exceed Brazil's offshore ambitions.
***
On Friday, 22 July, senseless acts of terror stunned a nation and the world, and Norway has since been struggling to deal with its shock and grief.
We here at Scandinavian Oil-Gas Magazine wish to extend our thoughts and sympathy to everyone who has been affected by these horrific events.