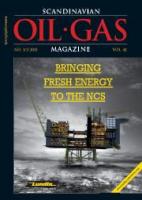 Transformation
Forty years ago, the first issue of Scandinavian Oil-Gas Magazine was published. The early 70s were an exciting time on the Norwegian Continental Shelf. Ekofisk had begun production in mid 1971, and in the decade that followed the magazine's introduction, Ekofisk was joined by discoveries that would become synonymous with what has been called the "Norwegian oil adventure" – discoveries such as Statfjord, Oseberg, Gullfaks and Troll. In the year before our first issue was printed a new, state-owned oil company had also arrived on the scene – Statoil.
So in 1973, the stage was set. The oil and gas industry on the NCS was young and vibrant, so many held great expectations (although not everyone was convinced). Image if we could transport a young oil engineer directly from 1973 to the present, we'd undoubtedly find that the industry has grown and evolved far beyond the expectations of those early pioneers.
And what's remarkable is that even now we can't be sure about what the future will hold; we continue to live in a time of excitement and promise. The Johan Sverdrup field is a clear example that surprises are always possible.
Forty years ago, for example, subsea technologies were only a dream. Innovations that the industry currently relies on and implements in some way on every field were yet to be made.
Now that Ekofisk has passed the forty-year mark, we are seeing major decommission efforts beginning on the NCS. But while the oldest parts of Ekofisk disappear, expansion is also taking place. Revitalisation efforts at Ekofisk ensure continued production, and predictions are that as much as 25 percent of the field's reserves remain to be recovered. This alone would floor our time-travelling engineer.
So we can expect to see even more MMO – maintenance, modifications and operations – in coming years, as operators improve infrastructure to take advantage of recovery improvement technologies.
Another example, drilling, has seen incredible developments over the last decades. Not least is directional drilling, pioneered in the 1930s. Add to this the advances in sensor and equipment technologies and we now see reservoirs tapped that lie several (horizontal) kilometres away from a drilling rig.
Security has been and will continue to be a top priority as exploration and production takes place in unstable areas. Recent events at the In Amenas facility in Algeria underscore the vulnerabilities of those working in remote areas. We will certainly hear in the coming months about methods to mitigate these man-made dangers.
The convergence of heavy-tech and high-tech has transformed the oil and gas industry – so the list goes on and on.
As our time-travelling engineer might tell us, any predictions we make now will seem quite uninspired when compared to the reality we'll experience in the future.