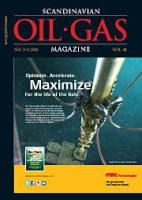 Dream Tech
It's spring again. And that means one thing around here – getting ready for the Offshore Technology Conference in Houston in May.
So, as we traditionally do, we've put together an issue that not only highlights what we can expect from OTC, but also includes some of the companies from the North Sea who will be attending the event.
OTC means technology, and we put together an issue that highlights a few of the innovations that make this such an interesting industry.
We start this issue with an article from the Energy Industries Council (EIC), which takes a worldwide look at the tremendous number of oil and gas projects on the horizon. The EIC database – EICDataStream – shows a total of 647 new projects or investments were added to the list since May 2012 (and that's not quite a full year yet!). What's even more astounding, the estimated total value for these projects is nearly half a trillion dollars. An upward trajectory, indeed.
We also hear from well integrity specialist Intetech about how Statoil will implement the company's Well Integrity Toolkit (iWIT) on 1,200 wells on the across the Norwegian Continental Shelf.
If you're lucky enough to be attending OTC, we have a quick look at some of what you can expect to experience in Houston. As always, the event promises to have far more to see and do than one person can manage during the week.
In addition to the awards – the Spotlight On New Technology Awards, in particular – we include some information from a few of our North Sea neighbours who will be exhibiting at the event – especially from those from Northern Norway who are part of the drive to develop businesses to support the growth of oil and gas production in the Arctic.
ABS – the American Bureau of Shipping – has also taken a look at the increased activity in the Arctic. Safety poses a big challenge to Arctic activity, and Classification Societies like ABS are contributing greatly to meeting that challenge.
Also, from Subsea 7, we hear about the Seven Viking, a new, innovative inspection, maintenance and repair (IMR) vessel, which has been, designed to operate in the harshest offshore environments and to meet the most demanding specifications.
As always, our focus is on technology. And this issue is no exception, whether your interest lies with pipelines or LNG or lifesaving systems (including cyber safety). We're sure you'll something that's fascinating.
Also in this issue, we begin our new series of profiles that look at individuals (and their companies) who are making a difference in the industry. Our first profile is of Kjell Pedersen, President and CEO of Petoro AS – one of the most influential "difference-makers" of Norway's oil era.
So, we hope to see you in Houston for OTC. So if you see us there (or even if you're not able to attend), let us know what's new – how you and your company are working to move technology forward. We're always up for hearing about how a dream has become a reality.