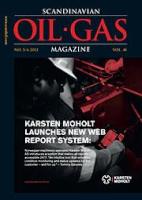 Inherit the Sea
Maritime activities are without a doubt among the world's oldest industries, and shipbuilding and ship operating endeavours have long been technology drivers. 
What began as methods for gathering food and transporting a handful of people from place to place evolved into ever more sophisticated means of mass, long-distance transportation and moving goods around the globe. Even now, when air travel dominates, the maritime industry offers an array of pleasure cruises to fill our free time.
Around the globe, and in the North Sea in particular, the oil and gas industry shares a lot of DNA with the maritime industry. From exploration, including seismic assessments and drilling, to platforms and storage, as well as shipping, the industry depends on safe, reliable vessels to do its work.
Interestingly, the term "Offshore" is used to describe maritime activities that support the oil and gas industry. And the term is fitting. Oil and gas Offshore structures and vessels are adapted to a broad range of purposes – and the purpose-driven adaptations make for specialised vessels that in some cases only perform a single function.
On one end of the spectrum of ship-shaped craft, we see seismic vessels that one would be hard pressed to put to any other job. While at the other end we find floating production, storage and offloading vessels that, while able to move from field to field, often sit and serve a single field for their entire careers.
In Offshore's early days, a generic supply vessel was put to work for a variety activities. Add cranes and a winches and you have a multi-purpose service workhorse that could deliver supplies, support divers, handle anchors or do any number of the tasks that needed to be done to support work taking place on a platform. But that was then.
Today, in the space between the seismic exploration vessels and FPSOs, we see niche vessels designed to support a vast variety of jobs. Anchor handling vessels handle anchors; diving support vessels support divers in performing their duties; and remote operating vessel support boats are outfitted to execute ROV operations. The list goes on and on – from cable and pipe laying to construction to well intervention.
A big driver for this variety is the industry itself, which demands more efficient, timesaving equipment and procedures, as well as the highest safety standards. And purpose-built, specialised vessels have these requirements designed into them.
From exploration to decommissioning, the suppliers of specialised vessel services have built fleets – and are expanding these fleets – to address specific industry demands. Taking the Subsea 7 fleet of more than 40 vessels as an example, we see a variety that includes vessels for rigid pipe lay and heavy lift, construction and vertical flex lay, heavy construction vessels, diving, as well as light construction vessels (LCVs) and life of field (LOF) vessels. Subsea 7's fleet is especially specialised.
Another example, Bourbon's fleet, is also specialised but includes a large number of multi-purpose supply vessels that have been customised for subsea operations, offering full cargo capacity and logistical support – in a word, flexible, but still filling a specific market niche.
The demand for Offshore vessels has been high – so high that some shipbuilders are betting the trend will continue and are building on spec, whether to sell before construction is completed or to lease once ready for duty. And as we learned at Nor-Shipping 2011, Offshore has become the largest market segment in the maritime industry.
So, when this year's Nor-Shipping looks to the next generation, we predict that vessel specialisation will undoubtedly continue to evolve as technology and industry demand drives forward both the maritime and the petroleum industries.