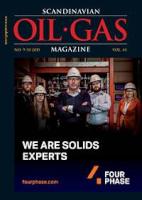 Always in Mind
It's said that every cloud has a silver lining. If this maxim is taken to heart, then working to polish the silver lining can keep us moving forward in adverse times.
And our visit to Offshore Europe in early September proved this to be the case for the current state of the oil and gas industry, as we heard about how the industry is busy regrouping, streamlining operations in preparation for the eventual upturn in oil and gas prices. As we heard repeatedly, it's not a matter of if, but a matter of when.
While year's event revolved around the theme of inspiring the next generation to realise that the industry has a future for many years to come, addressing the current challenges posed by low oil and gas prices was in the forefront of most discussions we took part in.
As this year has progressed, talk about working through low prices has moved from the abstract towards the more concrete. At Offshore Europe we heard about how companies are taking this "opportunity" to take a hard look at how they do business. It's not just cost efficiency; the theme of collaboration has become a strategy to weather the downturn.
Add enabling technologies to the mix, and the potential for successfully weathering the downturn is increased.
In particular, one OE meeting stands out. David Lamont, CEO of Proserv, pointed out, that material change will only come by changing the fundamentals in the way the industry works together. He explains, "As a start, we must stop over-engineering if we are to reset the cost base." Termed "ingenious simplicity", the Proserv approach is to pinpoint what issues need to be addressed rather than replacing an entire system, as well as to concentrate on delivering products that work to enhance existing infrastructure. And this approach requires a change is how the industry works together.
Lamont points out that in light of the need to supply world's energy requirements, "…the maintenance and optimisation of aging brownfield subsea fields are critical" – a point that is applicable to all oil and gas facilities.
Maintenance in particular is one area where the cost-saving impulse could mean to delay starting the work as long as possible. But maintenance, modifications and operations (MMO) activities should be just as important in the lean times as they are during more profitable times – not only to ensure optimum production rates, but to ensure that works proceeds as safely as possible.
And without a doubt, safety has become ingrained in the industry's mind-set, and no matter what efforts are made to cut costs, compromising on safety is not an option. In every province that the oil and gas industry operates, local authorities have worked hard to instil a strong commitment to health, safety and the environment.
On this side of the North Sea, the force behind this mind-set is the Petroleum Safety Authority Norway (PSA), the regulator for technical and operational safety, emergency preparedness and the working environment in all phases of the petroleum industry. From initial planning of a development through design, construction and operation, the PSA serves to ensure that safety, emergency preparedness and the working environment fulfil government regulations.
And the industry's commitment to HSE matters goes far beyond fulfilling requirements.
It's interesting to note that almost everyone we spoke with during Offshore Europe – no matter what the topic and how it related to cutting costs and working more efficiently – the discussion as some point turned to safety. Safe operations are always more cost efficient than dealing with the results of unsafe operations – a fact that everyone in the industry can agree with.