Internet
Long before bandwidth has reached acceptable levels for most fixed-line users, we are already beginning to talk about taking multimedia content to the cell phones. The hoopla is called Multimedia Messaging Service (MMS), and the idea is to take the already booming business of SMS – text messages – and turn it into a business bonanza of transferring huge files across the wireless phone networks. But the long-touted next step for mobile telephony is dragging its feet.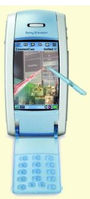 We are already beginning to talk about taking multimedia content, like real-time reservoir data, to the cell phones.
(illustration: Thirud, SOGM and Sony Ericsson)
Two years ago, the buzzword was UMTS – an acronym for "Universal Mobile Telecommunications System" – the new standard network that would allow broadband to enter the mobile marketplace. The buzz lasted until last fall, when the first companies that had scrambled for UMTS licenses began to downsize or go bankrupt. After 9/11, the situation turned worse, and the idea of mobile broadband has not yet picked up enough momentum to get the fire going again.
A Big Moneymaker?
This does not mean that the idea is in any way dead, however. The industry is working steadily towards the same goal, although the time for delivery has been postponed. In Japan, the market is already established, with the i-mode platform for mobile telephony and Internet attracting more than 28 million customers since 1999. i-mode's creators, NTT DoCoMo are happy with the way things have been going. The platform has enabled huge sales for handsets as well as services. The question remains, however, whether the same pattern of use – and the same revenue – can be expected when the U.S. and European markets are introduced to the new standard. The industry has certainly got its hopes up. The following quote is from a press release issued by Nokia last November:
'Nokia is confident that Multimedia Messaging Service (MMS) will be the service to entice and introduce people from all walks of life to entirely new ways of using mobile phones. […]Operators see MMS as an opportunity to widen their service portfolio and increase their revenue stream.' And Nokia is not alone in believing this:
'The versatility of Multimedia Messaging Service heralds a great future for our mobile society,' says Luis Lada Díaz, CEO of Telefónica Móviles. 'The fact that users can create their own content and personal news, as well as share their images with friends and colleagues points to increased airtime usage. We will see new revenue streams flowing from the existing SMS customer base. We will develop new services to attract and retain customers. With MMS, the opportunities for new ways of expressing ourselves, person-to-person are very exciting indeed.'
Text and moving images
With MMS, we will be able to send multimedia files, such as video streams and music files, via your mobile phone. The idea is closely connected to the development of third generation (3G) cell phones – with larger color displays, and vastly enhanced usability. 3G phones are mostly presented as a sort of PDA/cell phone/mini-computer hybrid. The development of new hardware to go with the new content is essential and illustrates a relationship that is the a driving force of most consumer-oriented technology: The need to accommodate new content formats gives rise to specialized hardware – such as compact disc players for CDs or MP3 players for MP3 files.
But commercial interests that are not directly linked to consumer trends are an important factor as well. This is a very visible aspect of the development of MMS. The industry is betting on this format because it can generate huge increases in revenue due to the fact that 3G mobile telephony billing will be based on the amount of data sent and received, rather than the time spent on the line. 3G telephones are 'always on,' meaning that the phone is always connected to the network. Multimedia files are significantly bigger than text files, and so MMS will provide a much larger potential revenue than SMS has been able to.
Complementary media
Still, SMS has been a huge cash cow for the industry, in a way that the comparable computer product – e-mail, has never been. A big factor here is that content on mobile phones has been subject to payment from day one. While Internet content providers are kicking themselves for not charging a fee for their services from the start, mobile content has always been linked to the cost of distribution, with a hefty surcharge on top. Since SMS has been seen as inherently cheap, the threshold for mobile users has been extremely low. Text Messaging won't disappear overnight, as one analyst correctly points out.
'For fast person-to-person messages, consumers don't need the richness of enhanced messaging service (EMS) or multimedia messaging (MMS). They will stick with SMS for its ease-of-use, lower price, and fast speed,' says Forrester Analyst Michelle de Lussanet. She is just one of many emphasizing the old Marshall McLuhan adage: New media always complement existing media – they don't replace them. Media are gradually phased out of use, but they don't disappear overnight.
The change from SMS to MMS is heralded by the industry as being as important for the mobile phone as the transition from DOS to Windows was for the PC. Initial reports from Japan indicate that MMS and related services have, to a significant extent, changed the way people use their cell phones, and also how they distribute their time and preferences between the PC and the mobile phone. But the format is still young, and undeveloped in the big western markets. We should probably not throw away old McLuhan just yet.
What kinds of content?
Will our use of mobile Internet mirror our PC habits? Some things won't change, according to analysts. Porn, it seems, will figure quite prominently, according to Dario Betti, an analyst at Ovum's digital media group: 'Adult services, including pornography, will be quite important in terms of generating multimedia messaging traffic. Entertainment services for teenagers and trivia such as daily horoscopes are the other two big areas.'
The content strategies that stem from Betti's predictions show how MMS and mobile Internet will emerge with characteristics from both the Internet and cellular phones. We can expect innovative solutions that will couple the media-rich formats of the Web with revenue-focused commercial schemes from the world of mobile telephony. In addition, the tie-in with television, radio, and the printed press will continue, with content providers trying to maximize profits on all media platforms. Combining SMS and MMS to generate quick payment for content providers and network owners both, will be an important feature.
With the convergence of stationary, big-screen media (PC Internet), and mobile small-screen handsets, the question on everybody's mind is this: Will the reluctance to pay for anything on the Internet prevail against the trigger-happy willingness to spend money via the mobile phone? Which set of preferences is the strongest? To be sure, this one has a lot of CEO's sleeping fitfully…