Finance: Statoil and Norsk Hydro
In recent years there has swept a significant merger and acquisition wave throughout the global oil and gas industry. The reason behind this consolidation process is simple: The companies in time, were burdened by huge problems in meeting owners' demands and expectations with regard to shareholder returns and growth.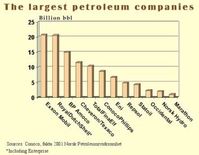 Exploration activities produced, on the whole, weaker results as a consequence of a greater spread of mature exploration areas, and the solution to this dilemma was mergers and acquisitions, which in addition to higher reserves and increased production also paved the way for a significant cost efficiency enhancement.
What about Statoil and Norsk Hydro who have not been a part of this consolidation process? There is little doubt that both companies are on the path to becoming relatively smaller both with regard to reserves and production. Both will experience increasing problems tied to generic growth, which they are attempting to redress through increasing exploration activity internationally. However, is it likely that two relatively small Norwegian, state dominated companies, will be able to gain access to the most attractive exploration areas globally? Is there reason to believe that Statoil and Hydro will achieve what few others can: To create a positive profile of generically profitable growth? The response to both questions must be – not very likely.
Norsk Hydro and Statoil can certainly continue as today and hope for the best. In as much as the State is a majority owner in both companies, no bid will be forthcoming for Statoil, and it is also highly unlikely that any attempt will be made on Hydro either. Furthermore, the State will not be the instigator for pushing forward any structural changes in either of these companies. Consequently, management in the companies may disregard any 'threat' of acquisition and wager that their strategy regarding generic growth and internal cost-cuts will prove to be gainful for the owners. The danger that values crumble through the implementation of this strategy is huge as the Norwegian Continental Shelf has now grown into maturity and one does not have access to vast tracts of areas ripe for international exploration.
Even should Statoil and Hydro desire an acquisition or merger with an international partner; there are few potential candidates still remaining. They have already to a large extent been pushed to the sidelines in the global struggle for market share and cost effectiveness.
It also remains unsure as to whether a foreign acquisition / merger is the correct path to travel in the initial phase. A 'Norwegian solution' is, in our opinion, the most sensible road to take for several reasons. Firstly, no other strategy would provide anything approaching such large cost savings as a merger of Statoil and Norsk Hydro. In addition to a lower cost level improving current earnings, it would also involve the likelihood of more reserves in the Norwegian Continental Shelf being developed profitably.
The advantage of gathering Norwegian gas sales under a collective banner for export abroad to a large extent as possible remains self-evident. A merger of Statoil and Norsk Hydro would to some extent limit Norwegian interests competing against each other when they offer the same gas out internationally.
The companies may well argue that it is the State through the high level of marginal tax that will sit with the greatest profits. That is correct. The State as the majority owner will, together with all other shareholders, benefit strongly from the higher added value gained through a lower cost level. It is, after all, the interest of the owners which management in the two companies have been engaged to look after.
A merger between Statoil and Norsk Hydro will, however, not solve two important problems which both companies struggle with. It will probably not contribute towards more finds on the Norwegian Continental Shelf (but as mentioned, more existing and new finds can be developed at lower costs) and it will not provide the necessary geographic spread of reserves and production.
However, the hefty increase in the reserve base in Norway will make the new company more interesting and sought after as a partner for foreign companies. In addition, it will be easier to exchange fields with foreign players when the size in Norway is expanded. This will provide an increased geographic spread at a hopefully lower price and with less risk attached than is the case at present; with the massive increase in exploration internationally, which is the strategy both companies are presently embarking upon. An amalgamated company would also be considered more attractive with regard to being awarded licenses internationally.
Will a merger take place? Norsk Hydro's management is still convinced that the structure in the company provides large synergy effects and thereby best serves the interest of shareholders. A merger of these assets with Statoil would furthermore entail that much of the value in Norsk Hydro would be transferred to Statoil. This taken into consideration, in all probability it would have to be Statoil that took the initiative towards a merger ensuing.
The result being that Statoil must bid for shares in Norsk Hydro. Whether or not this will be permissible is also a political question. As the main shareholder in both companies it is not possible to avoid political approval. Even in the event of a merger occurring between Statoil and Norsk Hydro, the new company would in no way be regarded as a giant in the international arena. Nevertheless, one would be amongst the 10 largest companies globally which had whole or partial private ownership.
We believe that time is working towards a merger between Statoil and Norsk Hydro due to the huge advantages inherent both for the Norwegian State, the private owners and for the future development of the companies. The new company will be more competitive through greater cost efficiency, and it will ease a sorely needed geographically diversified growth. Moreover, in our opinion, it would be an advantage for Norsk Hydro to spin-off the oil and gas divisions. The company has significant growth ambitions within its two other business areas, and as the capital is limited it could in time demonstrate that to sell-off or demerge the petroleum activities will provide favorable conditions for a more positive development in the two remaining business areas.