Business Unit Leader BP Norge. Anne Drinkwater
As an outdoor person Anne Drinkwater has personal interest in taking care of the environment. As head of BP Norge she also has a professional dedication to do her best to enhance environmentally friendly practises within the oil & gas industry. This year she has made her mark on the conference agenda at Offshore Northern Seas (ONS).
What struck me when we started working on the ONS conference program was the impressive background and diversity of interest among the participants. We wanted to bring in both Norwegian and international expertise and as many different viewpoints as possible, and I feel we are presenting a very broad and forward-looking program,' Drinkwater says.
We did have a very good time during the discussions,' she says with a laugh. 'We were all eager to do our best, and I believe we all felt a strong sense of ownership towards our inputs.
Anne Drinkwater can confirm that ONS has a good reputation, which makes it easy to interest people in giving a speech at the conference. 'Of course, it is always a problem to find an open slot in people's schedule, but we have been quite successful this year, I believe.
We are 12 people in the organising committee, and we started discussions about 18 months ago. We all had inputs about possible interesting topics, and I can assure you we had some lively discussions,' she laughs.
'The ONS program has several dimensions within its 'Energizing a new Generation' motto. One dimension is that ONS has invited young professionals to hear their view of tomorrows world on a scale that has never before been done at such a large conference,' Drinkwater says. BP is also represented with a team in the Young Professionals section. 'I know they are hard at work with their program,' Drinkwater smiles.
Nice Ideas and Practical Action
Another dimension is the challenge of fuelling the future. 'We have invited a broad range of people and companies to discuss that matter,' she explains. 'One of them is Daimler-Chrysler, which will be presenting their latest innovation with respect to fuel cells. I strongly believe we will see more co-operation between oil companies and companies like Daimler-Chrysler in order to develop environmentally friendly fuel as well as fuel consuming products.'
Drinkwater points out that at the conference there will be representatives both of the upstream and downstream business, as well as environmentalists. During one of the sessions she is chairing, the leader of Bellona environmental foundation, Fredric Hauge, will be talking about 'The greening of European energy'.
'I see Bellona as a very constructive organisation which makes them an obvious partner to discuss the future with,' Drinkwater says. She underlines that there is a general understanding within the industry today that oil companies must discuss with environmentalists how to find the best practises in order to leave the planet in a good condition to future generations.
'Within BP I genuinely believe people have a strong urge to 'do the right thing', and not only be 'seen to do the right thing',' Drinkwater points out.
She had a strong wish for that when she worked in the Gulf of Mexico. There, in 1997, she got involved voluntarily in BP's efforts to reduce their 1990-level of CO2 emissions by 10 percent.
'That was a nice idea! Although at the time we also thought it very difficult to achieve. But that is part of the beauty of the challenge - to actually find a practical way to reach a nice goal!' BP found the way, and this year they reached their goal, years before their promise.
'Now it is important to set ourselves new goals, and to decide which targets are of premier importance,' Drinkwater underlines.
BP has long stated that they take environmental issues seriously. Lately other companies have joined in, like Shell. When asked whether it has become a race among oil companies to 'be green', Drinkwater laughs.
'If it is, that is a good race to be in! We have no desire to be alone in our struggle for cleaner practises, so I don't see it as a competition. We want everybody to join in. But not all companies have so far.'
Norway Not Best on Safety
Anne Drinkwater is also very engaged in safety matters. She goes offshore regularly herself, at least once a month. That way she gets hands on experience and feedback on safety standards and practises on BP Norge's installations.
Upstream journalist, Ola Morten Aanestad, is one of the speakers on safety at ONS, with a speech titled 'Paying lip service or paying attention.'
'He has a standing as being an independent reporter not just on offshore but also onshore activities. I believe he will give us an honest comment on the safety situation within the oil & gas industry in Norway today, 'Within BP I know people have a strong urge to 'do the right thing', and not only be 'seen to do the right thing',' Drinkwater says.
'I would say Norway does not have the best safety record in the world. But then it does not have the worst either,' she continues.
'I would like to note that we have made tremendous progress over the past years. We have done a lot of technical improvements. A lot of automation has enabled us, to a large degree, to remove humans from areas of harm. The challenge that remain, and that we must handle every day, is safety mentality.'
Drinkwater has many examples from her own workday. 'We all look out for ourselves, and for our colleagues. When we go offshore none of us want to come home injured!'
'One way of keeping a constant focus on safety is through the training of new workers when they first come to on installation. They are always welcomed by experienced workers and taken through all rules and practises offshore. But they are also encouraged to give comments. As a newcomer is looking at things with fresh eyes, he or she might notice a safety hazard we have lived with without noticing. Within our organisation we are very comfortable with receiving constructive critic!'
Anne Drinkwater points out the importance of doing all jobs carefully and within a controlled environment. 'Sometimes when I go offshore I see more talking than action. But that is a good thing!' she says. 'That means the workers, both from BP and from our contractors, are discussing an operation carefully before going ahead with the action. Then I know the job is going to be done well.'
Safety Culture
'Safety within the industry is to a large degree a cultural thing. But that does not mean we can let up on the technical side,' Drinkwater points out. 'We can not afford to be complaisant on neither.'
'As a big corporation we have the ability to push forward new and better standards. The best we can expect from others is the minimum we expect from ourselves,' Drinkwater says. One of the programs BP has to enhance safety standards is called 'Action in Management'. Among other things it involves a group of actors who act out situations with safety hazards, and then stops to ask the audience for comments to what they are doing and how the problems can be dealt with.
BP also has Health, Safety and Environment (HSE) personnel to draw on if extra training or expertise is needed. In addition to the central safety group, BP has HSE personnel employed locally. 'We can take advantage of people employed elsewhere in the organisation, as well as sending our people to help out in other locations,' Drinkwater explains. 'For instance, shortly our Safety Manager in Norway will be going to Venezuela to give advice there.'
BP also has lots of workshops from personnel all over the world. When an incident happens at one location, information is transmitted to all relevant personnel to make sure everyone learns from the experience.
Mature is not a Bad Thing
When discussing the NCS Drinkwater points out that mature is not necessarily a bad thing!
'In a mature area we have a clearer understanding about what we have. Also, I'm told the probability of finding more hydrocarbon is highest close to already producing fields,' she says.
At the moment BP is developing its Valhall field with a water injection platform to enhance its production. Tambar is a medium sized project that came on stream a year ago. It is a satellite field with tie back to the Ula platform.
Anne Drinkwater has been just under two years in Norway. Before coming to head BP's organisation in Norway she was stationed in Alaska, and before that she worked in the Gulf of Mexico.
'Because I have been in Alaska I have a very clear understanding of the need to take environmental issues extremely seriously in such very vulnerable places,' she says.
Being an outdoors person, she also appreciates remote places with natural beauty. 'Norway and Alaska have many similarities. Norway is in many ways a tame version of Alaska; you don't have to worry about bears when you go hiking. Besides, if you get lost in Alaska you are in serious problems. But in Norway I can go a few minutes from my home and fully enjoy the silence of nature, with birds singing and water trickling down a small creek.'
Anne Drinkwater has also taken up kayaking while living in Norway, constantly increasingly her ability to stay afloat in turbulent situations!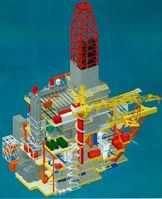 Tambar
On stream July 2001
Estimated reserves 41 mmstb oil
Expected initial oil production rate up to 30 mbopd
2 production wells
Gas exported to Ula for WAG injection
Tambar has:
Zero emissions to air and sea as produced water is re-injected at Ula and there is no net increase in emissions to air at Ula. Electric power is supplied from Ula via power cable.
Valhall Live during ONS
The ongoing Valhall water injection project includes drilling of new production wells. Actually this new platform will be installed just ahead or under the ONS exhibition. BP will try to send the installation live on internet. Due to susidence, future re-development includes installation of new platforms on the field.