Offshore Northern Seas ONS
The great attraction during the ONS festival will be the British Navy's supply ship RV Triton. RV Triton will be moored in the inner harbour, and it will be open to the public in the evening. During the day it will be used for representative functions.
On board RV Triton visitors will have a chance to learn more about the ship, and QinetiQ, the company that owns it.
Range Rover and Golf
Although impressive in itself, the ship is not the only attraction. The new Range Rover will also be on the deck. It was launched a few weeks ago, and represents the biggest change in design in its 30 years history. The company is also launcing a new armoured Range Rover, tested by QinetiQ.
QinetiQ is also working with a company in UK on an application of their technology for golf. The same company will have one of their Golf Simulators, a coaching aid for golfers, on Triton. So there will be chance for people to practice golf, and take part in a competition.
The RV Triton is owned by QintetiQ, formerly part of DERA (Defence Evaluation and Research Agency). QinetiQ is one of Europe's largest science and technology solutions providers. This technology is being applied in many different ways, including oil and gas, with some 5,000 granted and pending patents.
RV Triton
RV Triton, the World's largest steel Trimaran was built by Vosper Thornycroft in England and delivered to QinetiQ, the former Defence Evaluation Research Agency in August 2000. RV Triton has just completed a gruelling 18 months of trials to derisk the hullform for future warship designs for the United Kingdom Royal Navy and the United States Navy. It is now available for hire as a trials ship to conduct surveys and test and evaluate equipment either commercial or military.
The trimaran hullform offers a number of potential advantages over the monohull which provides an enhanced capability as a survey platform:
The trimaran has lower hull resistance at higher speeds, where the narrow, slender main hull results in a saving of about 20 % at high speed. As it is this top speed that determines the size of the machinery fit, a lower power requirement should be reflected in lower machinery costs on build and lower running costs.
Scale-model sea-keeping experiments suggest a similar performance to that of a conventional vessel of the same length. A trimaran is typically 20 - 30% longer than the equivalent conventional vessel and gives superior sea-keeping performance.
The trimaran is more stable than the monohull. This allows heavy equipment to be fitted more easily and still maintain stability margins.
Trimarans have a very large deck area compared to the equivalent monohull. The hullform offers not only deck length but also deck area, particularly in the most useful amidships portion. This, and the greater effectiveness of the whole ship design and the scope for different layouts, provides a better place for a helicopter close to the centre of pitch of the ship, and a good stern width for additional underwater systems. The central section of the vessel experiences significantly lower movements, giving much better working conditions and helicopter availability. The flight deck could also accommodate containerised units of equipment or additional accommodation.
Trimaran Research
QinetiQ has carried out considerable research into the performance and design of trimarans. At first, this work concentrated on the hydrodynamic aspects of the hull design, and involved running small-scale models, typically 8 metres long, in the large experimental tanks at QinetiQ Haslar. The research was successful; key parameters of main hull length-to-beam ratios, and side hull length and position were identified. As this was progressing, computer design tools were developed for predicting the resistance, propulsion, seakeeping and manoeuvring characteristics of a trimaran warship.
Once the hydrodynamic design was set, QinetiQ Rosyth started to investigate the structural design requirements, for which numerical models were developed. These models have been used to predict loadings and stresses in different sea states, which has enabled structural rules for the design of trimaran warships to be formulated.
The third area of research covers survivability, where any peculiarities of using a long slender hull-form are being investigated by using scale-model experiments and developing computer-based numerical models.
Structural, stability and hydrodynamic considerations drove the main dimensions and configuration of the ship. Nine watertight bulkheads, which subdivide the vessel, were required to satisfy damaged stability and, in way of the cross deck, strength requirements.
RV Triton is built to DNV High speed and Light Craft rules, and is a commercial equivalent of a warship-type structure. It is designed for civilian registration and crewing under MSA Class VII service, and Classification society survey. DNV +IAI LC RO HELDECK S E0 WI-OC ICS 6TEU and UKMCA Class VII.
Safety is taken very seriously and Triton has in place the UKMCA ISM, MOD JSP430 Safety Case and an Aviation Safety Case for UK Lynx.
RV Triton is fitted with a 'state of the art' integrated navigation system that allows 1 man bridge operations and provides data to the ships trials instrumentation systems. Her comprehensive communication suite provides all statutory communications as well as advanced communications through UHF, Satellite and email. The following equipment is currently fitted.
The Trials Instrumentation System (TIS) is the ship fitted data acquisition system. TIS is capable of recording over 400 channels of data at sampling rates of either 20Hz, 200Hz or 2000Hz. All TIS data is time stamped from GPS source time synchronisation signal.
TIS has a range of specialised sensors that are fitted to the ship:
Miros WAVEX Wave height radar
TSK Wave height radar
Trimble AGPS system
AGI Windspeed and Environmental monitoring system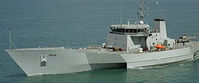 Along with these sensors TIS records data from the ships navigation system to provide a default data set, these include:
Ship Data: Position, Speed, heading, Rudder Angle, Draft etc.
Ship Machinery Data: Propulsion Power, Shaft Torque, Generator Power etc.
Environmental Data: Temperature, Humidity, Wind Speed, Pressure etc.
The trimaran hull-form has potential advantages over the conventional monohull. Significant among these are the lower through-life costs attributed to the lower hull resistance
Accommodation is situated in the superstructure to allow cabins to have natural light, as required by the MCA. The superstructure is located forward on the cross deck to maximise space for the helicopter deck. The main working deck of the ship is 2 deck, which contains amenity spaces, including the galley, forward, immediately below the accommodation. Switchboard rooms and generators are positioned aft on 2 deck, for ease of access and simplicity of construction. The shaft line dictates the location of the motor room below 2 deck.
The weatherdeck includes the flight deck and locations for up to 6 TEUs required for potential trials equipment. A work boat and deck crane are situated alongside the superstructure to starboard, while the SOLAS rescue boat and davit are to port. The layout of the weatherdeck was dominated by safety considerations, in particular the requirements of lifesaving.
RV TRITON is a diesel electric ship, with propulsive and ship-service power provided by a pair of diesel generators. Drive is provided by a single conventional shaft-line in the main hull, plus a right-angle drive thruster in each side hull. The main shaft is driven by a single 3.5 MW AC electric motor through a reduction gearbox. Side hull thrusters are driven by 350 kW electric motors. The prime movers are two Paxman 12VP185-powered 2 MW diesel generators backed up by a 400 kW harbour set and an 80 kW emergency set. A single fixed-pitch propeller and rudder are conventionally arranged under the aft end of the main hull.
Enhancement plans are in hand to ensure that the needs of the survey community are met.
Trials to Date
The life of RV Triton is split into three phases. The first phase was solely aimed at proving the hydrodynamic and structural research which had been carried out by QinetiQ. The following is an outline of the phase 1 trials; the key items are the recording of structural loading and assessment of seakeeping characteristics, as well as more general ship handling and familiarisation.
Phase 1
condition taking and inclining experiment " turning circles and pull out manoeuvres powering trials - calm water and in waves " ship design and layout (habitability and operability) zig zag manoeuvres " astern manoeuvring manoeuvring in waves " windage effects low-speed side hull manoeuvring " noise and vibration natural roll period " small-boat operations. Structural response when docking/undocking " replenishment at sea (interaction and station keeping) motion response in irregular seas " towing and towing an array ship motions throughout vessel including extremities of beam and length " vibration measurement (modal analysis) general ship handling " senior officer acquaint helicopter trials.
All the above trials have been completed and have been successful. The Trimaran concept has been proven as a contender hullform for future ship designs. RV Triton has operated in many different seaways and has proven herself to be a very capable trials ship.
Conclusion
The trimaran hull-form has potential advantages over the conventional monohull. Significant among these are the lower through-life costs attributed to the lower hull resistance. These have been demonstrated in the recently completed trials programme.
The large volume of the trimaran hull and the stability inherent in the design provide adaptability and flexibility in equipment layout and in fitting customer specific equipment easily making RV Triton an excellent platform for use by the survey industry.
The vessel will be open for viewing and discussions with QinetiQ in Stavenger harbour during the exhibition.
For further information www.QinetiQ.com/trimaran
RV Triton
The main parameters of RV Triton are:
Length overall 98 m
Length between perpendiculars 90 m
Beam overall 22.5 m
Depth to main deck 9.0 m
Design draught 3.2 m
Design displacement 1035 t
Maximum speed 20 knots on main propulsion
8 knots on side hull propulsion only
Range 3000 nautical miles
Litton Bridgemaster E S Band ARPA Radar
Litton Bridgemaster E X Band ARPA Radar
2 x Litton LMX400 DGPS Receivers
Furuno Loran-C Receiver
Litton Electronic Chart System (ARCS & Vector Compatible)
Skipper GDS 101 Echo Sounder
Doppler Log
Facsimile Weather Receiver
AGI Wind Speed & Environmental Monitoring
NMEA 0183 data available on the bridge, in the main trials lab and TIS
The Communications Systems onboard is:
External
GMDSS North Atlantic Compliant DSC VHF
Marine Band HF
Civil Air Band VHF
Military Naval & Air Band UHF
Litton INMARSAT SAT-C
Litton INMARSAT SAT-M
Voice, Fax Slow Speed data (9.6K)
NERA INMARSAT SAT-B
Voice (Direct dial available from Scientist Cabins)
Fax, Slow Speed data (9.6K), High Speed Data (ISDN)
Ship Fitted network and email system using Microsoft Exchange and Outlook
Internal
Automatic Telephone Exchange to all cabins, living and working areas
Handheld VHF
Handheld UHF
Triton has 3 main deck areas: the Forward Deck, Flight Deck and Mooring Deck. All of these areas provide a flexible layout with a complete range of power supplies available:
170m2 Forward Deck
275m2 Flight Deck
Clearance for helicopter operations
Fixing points for 7 20ft ISO containers
120m2 Mooring Deck
Forward Deck Power Supplies
1 x 125A 440v 3ph
1 x 63A 440v 3ph
2 x 63A 110v 1ph
Flight Deck Power Supplies
1 x 200KVA Pulse Power Supply
1 x 125A 440v 3ph
2 x 63A 440v 3ph
1 x 32A 240v 1ph
2 x 63A 110v 1ph
Mooring Deck Power Supplies
Domestic 240v 1ph
1 x 16A 110v 1ph
Main supplies available from Flight Deck
Work Boat:
1 x Pacific 22 (7.3m) MkII RIB Workboat with Waterjet Drive
Laboratories (Images: TIS and main lab)
50m2 Main trials laboratory fitted with: benching, cupboards, drawers & bookcases
3 x 6ft 19" racks
25m2 TIS laboratory fitted with benching, cupboards, drawers & bookcases
2 x 6ft 19" racks
Laboratory Power Supplier (Trials and TIS)
1 x 25kVA 240v 1ph 60Hz
1 x 50kVA 240v 1ph 60Hz Clean Scientific Supply (Def-Stan 61-5)
1 x 25kVA 110v 1ph 60Hz
1 x 35kVA 110v 1ph 60Hz