Make money fa$t! Enlarge your penis now! Buy Viagra! Lose weight now! Ever get one of these in your mailbox? Annoying marketing messages for sexual-performance drugs, porn, debt reduction and weight loss are filling up mailboxes around the world, and the problem is growing fast. Nobody is unaffected by the growing amount of spam.
Spam is taking over. The market research company Gartner, Inc., estimates that junk e-mail makes up over half of all email traffic sent over the Internet, growing to 60% by mid-2004. It is time-consuming, it is difficult to control, it can be offensive, even dangerous, and it is always incredibly irritating, but it exists because it offers great advantages to marketing managers with dubious agendas.
Irresistible Numbers
There are two big reasons why spam has become so prevalent. One; it is incredibly cheap. When each email message in a mass mailing has a cost of less than 0.03 cents, you can afford to reach a lot of people. Of course, this applies to serious, permissionbased e-mail campaigns as well, which is why marketing managers feel they are being robbed of the chance to use a very valuable media channel. It still does not stop them completely – Gartner expects more than 80 percent of companies that use direct marketing to conduct at least one email marketing campaign by the end of 2004. It is simply too cheap to ignore in a tough advertising market.
The second reason is that e-mail campaigns work. According to the Gartner study, some campaigns can have a response rate of more than 15%, a huge number compared to the 1% common to web banner ads. This is true even for the most ridiculous "lose-40-pounds-in-one-week"-spam campaigns. People click on links in the emails, and many make purchases, whether it is cheap Viagra, pornography, or moneymaking scams. So any spam e-mail that annoys a million people may still generate 150,000 transactions.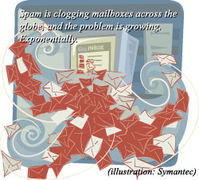 What's In a Name?
The word "spam" refers to unsolicited commercial email – marketing messages sent out to huge amounts of addresses, to people who have not asked to receive them. The term originated from Monty Python's famous skit with Vikings singing "spam, spam, spam, spam, spam…" in a rising crescendo, drowning out all other conversation. The analogy applies because spam is drowning out normal discourse on the Internet. In the skit, which was created long before e-mail, they were referring to a popular canned meat product. The people who make this product are not happy.
When Hormel Foods started packaging their processed meat in cans, coming up with what they thought was a catchy name, little did they know that the brand would soon be forever associated with mass-mailed inbox-clogging sales pitches. They fear that association with junk email has forever tainted their brand name. They have good reason to be worried. Like they say: "Children will be exposed to the slang term 'spam' to describe UCE (Unsolicited Commercial E-mail) well before being exposed to our famous product SPAM. Ultimately, we are trying to avoid the day when the consuming public asks, 'Why would Hormel Foods name its product after junk email?'"
Dangerous
Spam can be more than just annoying; it poses a very real security threat. Security experts worry about the practice of hiding computer viruses in junk e-mail. In June, the British spam-filtering company MessageLabs, found what they believe is the first example of a spammer intentionally spreading a computer virus. Around half a million copies of the AVF virus were sent out to computer users over a two-day period and MessageLabs is convinced a spammer is to blame.
The purpose: to turn the recipient's computer into a spamming machine. This technique ensures almost total anonymity for the spammer because it is virtually impossible to trace the route back to him. It has quickly become a serious problem. Matt Sergeant, the company's chief anti-spammer is very worried. "Around 65% of spam is sent on hijacked computers, using insecure software already installed on peoples' machines," he told the BBC in an interview.
Filters
ISPs are taking steps to stop spam from taking over. Their best tools right now are enterprise content managers, a kind of software technology deployed by companies and Internet service providers that will effectively blacklist about 80 percent of all e-mail marketing campaigns, including those in which consumers have specifically requested product information. But software like this cannot always discern the spam from the legitimate marketing campaigns. As a result, marketing campaigns that are not spam are being filtered out as well.
The same problem applies to commercial spam filters as well. These filters make life easier for everybody – except the spammers, and the marketing managers who can't use e-mail as a marketing tool. Right now, the common practice is spam filtering on each user's computer. Popular security software, such as Symantec's Norton Internet Security, come with an embedded filter, allowing the user to set criteria and choose between flagging and deleting incoming spam. But even though Symantec makes big money selling their products to consumers, they see the need for centralized control systems.
No Easy Fixes
Legislation is in place outlawing spam in most countries, and it is constantly under revision. But it is very difficult to find effective regulation methods. Jurisdiction is one problem – as long as a single country allows spam mailing, they can become a haven for spammers who need servers for mass mailing. And legislators are hard pressed to keep up with constantly evolving spamming innovations. Spam-filtering firewalls, popular with large corporations, block junk mail at its entry level on the company mail servers. They make for easier administration, since they are not installed and controlled on each individual computer. But the most powerful prevention tool is ISP-level spam filtering. This approach stops spam as it enters the ISP's mail servers.
A Fine Line
Classification is a problem in itself. There is a fine line between legitimate marketing and spam. The most common distinction is based on whether the recipient has signed up to receive information, but this has turned out to be imprecise at best: Many websites come with pre-checked confirmation boxes, requiring the user to uncheck it to prevent e-mail marketing. This is legal, but the end result is the same for e-mail users: they get mail they don't want. And as a result, confidence in electronic mail, and the Internet as a whole, suffers.
The trick is to find the right balance between spam prevention and allowing legitimate marketing campaigns. Spammer tools such as FilterBuster work by checking email campaigns for words and phrases that trigger junk mail filters. These products flag words such as "free", "remove", "subscribe", and "click here" that could set off spamblocking software. And this affects normal email discourse as well – filters are not accurate, and allow some junk mail to get through, while blocking messages between two employees discussing a sales campaign.
And so the dance continues. Spammers, like hackers who create viruses, are constantly coming up with new tricks. ISPs, companies, and mail users are trying to keep up, without crippling electronic mail as a medium. This is a real, and growing, threat. And as it stands, no solution seems to be coming anytime soon. With email, you get a wonderful tool. Spam ruins it for everyone.