Finance
The intentions of this article is to focus on the fact that the war against terrorism has entered a new phase, the repercussions of which soon will reach the petroleum industry.
The war has ended, but the battle will continue on another arena. The focus has now changed from a defined enemy to different stakeholder's interests. Hopefully the latter will change the weapons from hardware to software issues.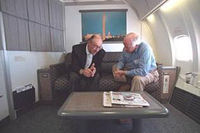 Vice President Cheney and Chairman of the Federal Reserve Board Alan Greenspan will probably have many talks related to Iraq in the near future. Here the two are aboard Air Force Two (photo: David Bohrer, The White House)
The basis for the war, as widely known was not anchored in UN and the Security Counsel. September the 11th changed the world as the suicide attacks on World Trade Centre and Pentagon provoked a more offensive American foreign policy. American took action in accordance with UN resolution 1441 and that the US presented evidence of Iraqi programmes to develop weapons of mass destruction and ballistic missiles with a range greater than one hundred and fifty kilometres. So far no evidence of weapons of mass destruction has been revealed. The US also categorically denies that oil was one of the reasons for toppling the regime in Iraq, but in the wake of the war this denial might come under scrutiny. Former US military leaders have previously stated that the US 'must have free access to the regions resources'.
France and Germany have hoisted their flag against the US and in clear words nailed their colours to the mast provoking the US foreign minister D. Rumsfeld to describe this as the "old Europe" in a patronising way. The resistance to the American-British partnership (coalition forces) caused crisis in NATO, UN, and EC.
Britain has now expressed that the UN must have a political and humanitarian role in the post-war Iraq. The new government must have an international legitimacy if it shall succeed. The threat of a unilateral US can be neutralised with a strong UN or a united Europe in cooperation and not in collision with US.
Petroleum resources
The UN's oil-for-food program was extended during the War. The UN Security Council voted unanimously to extend the humanitarian programme providing aid and assistance to Iraqi civilians. The future for the oil-for-food programme is not going to be easy. Firstly it is a complex matter, and the effect will be dramatic for the Iraqi people if it were to be suddenly shut down. The call for lifting UN sanctions as soon as possible has been raised in Washington. The Security Council wants to see a more gradual approach as there is still the question in many minds of whether Iraq is yet free of weapons of mass destruction and how this can be verified.
The Iraqi oil industry has barely returned to normal – whatever that is. Four wells are producing in the Rumaila field to the refinery in Basra. The oil is for internal consumption such as power generators, power plans and transportation.
This is not a controversial issue. For most stakeholders it makes sense that the natural resources are used internally in a post-war (conflict) situation. The goals are aligned in both political and economic terms. But when oil starting to gush, and more wells are producing, more fields are upgraded, infrastructure is connected and the oil is shipped from the terminal at Mina al-Bakri in the south or from the Ceyhan terminal in Turkey it will become more controversial.
The oil reserves of Iraq amount to approximately 113 billion bbl, globally number two after Saudi –Arabia. The US Dept. of Energy (EIA) has estimated that the reserves can be as high as 220 billion bbl – equivalent to over 90 years of daily oil import and consumption for the US market. Because political instability, war and sanctions have prevented thorough exploration of substantial portions of Iraqi territory, there is a chance that another 100 billion barrels lie undiscovered in Iraq's western desert. So all in all Iraq's oil wealth might well rival that of Saudi Arabia. The Iraqi oil industry has seriously deteriorated as a consequence of the Iraq-Iran war 1980-1988, the 1991 Gulf War and since 1990 sanctions. Iraq is now a new market region for all.
Achieving a stable oil price (USD 15 -20 bbl) and predictable supply of energy is vital for the US economy. The economy is in free fall, unemployment is over 6 percent, household spending is down and poverty is increasing rapidly. The post-war effect will be a challenging battle.
Investments and the Bush connection
US firms win Iraqi contracts provoking Germany and French firms to protest as all five tenders where American entities. Kellogg, Brown & Root – a subsidiary of Halliburton, whose former chief executive Dick Chaney is now US Vice President – won a multi-billion deal (900 mill. USD) from the Department of Defence to rebuild Iraq's oil infrastructure.
A harsh debate has started in France on Chirac's position statement and his lack of support to the war as consequences brightens – Germany is expected also to follow in a pragmatic tone. There is now doubt that the political point of view will form a framework for contract awards and US representatives in the USAID have raised questions to Dick Chaney impartiality.
The aim to increase production (currently 50.000 b/d) from the normal 2,5 million b/d to 3,5 million b/d is expected to take 2-5 years and 4-5 billion USD in investments. Increasing oil production to 6 million b/d requires a further 40-50 billion USD over an additional 5 years. A post-sanctions Iraq will pay for the massive tasks of rebuilding by increasing oil production rapidly. Some analysts have even extended the production scenario to 12 million b/d, bringing the production inline with the demand – but at what price?
USAID's programme of contract assignment has triggered resentment and concern among countries outside what the US calls the "Coalition of the Willing" which backed its decision to invade Iraq.
All its early contracts went to US companies in a tightly restricted bidding process - the biggest of contract for almost USD700m, went to Bechtel, a construction company with tight links to the White House. On its board is George Shultz, formerly Secretary of State under ex-President Ronald Reagan.
Bechtel is reported to be holding a meeting to discuss reconstruction in London, at which British and Australian firms in particular are expected to push for a sizable share of the subcontracts which will flow from Bechtel's deal.
Both these countries contributed troops to the war in Iraq, and both governments are keen to share the spoils, further connections are:
US Vice President Dick Cheney, 1995-2000 – CEO and Chairman of the board in Halliburton.
National Security Adviser Condoleezza Rice, 1991-2001 – member of the board in Chevron.
Rice mentor – Bent Snowcraft – National Security Advisor during the Gulf War 1991.
Secretary of Commerce Donald L. Evans, 1975-2001 - CEO and Chairman of the board in Tom Brown.
The Bush administrations strong connection the energy sector causes speculation concerning favouring US companies in the licensing of Iraq oil production and transport this supported by a US friendly Iraqi Government. So far INOC (Iraq National Oil Company) has monopoly on oil production.
Political climate
Iraq is far from being politically stable. Tribal, ethnic or region-based militias may develop within the country's 150 major tribes and 2000 clans, commanded by figures similar to the Afghan warlords. Kurds in particular may attempt to formalise their independence. Sheiks who have sworn to defend Iraq against foreign invaders might turn on rivals or to settle scores with the Ba'ath party operatives.
Demonstrations with slogans 'Yes to freedom, yes to Islam, no to US, no to Saddam' has been chanted by more than 20.000 demonstrators marching to the city of Nassiriya.
The most challenging issue now is the effort to stabilise Iraq from forces that will and can obstruct a good progress in the re-building of the Country.
Jay Garner who leads the post –war administration needs support, not only internationally, via the UN and the EC, but also from the shia-muslims (SCIRI) which represent more the 60 percent of the Iraqi population. So far both the Iraqi national Congress (INS) and SCIRI have boycotted the meetings.
Global effect
Members of the OPEC oil cartel have agreed to cut crude oil supplies by two million barrels a day in an attempt to stop prices falling. Ministers representing the member states said the move involved reducing extra supplies introduced before the Iraq war, while simultaneously lifting official output quotas. Under the plan, the cartel's official output ceiling will rise by 900,000 b/d to 25.4 million b/d while overproduction will be eliminated.
But analysts questioned whether the planned cut in actual output would be sufficient to support prices.
'It looks like they have precluded any return of Iraq oil before June, and are effectively sharing Iraq's market share between them,' an analyst says.
Output had averaged 27.4 million b/d in February and March as producers with spare capacity, such as Saudi Arabia, boosted output to ease fears in major consuming countries that war on Iraq would disrupt Middle East oil supplies and lead to sharp price rises.
Spiraling lower
Those concerns have since subsided and prices have fallen from near USD40 a barrel before the war to about USD24 a barrel for Brent crude oil - the world benchmark. Brent dropped 70 cents to USD23.57 a barrel after OPEC announced its decision.
But overnight in Asia, the mixed signals from OPEC meant the price of US crude oil crept up 20 cents to USD26.85 a barrel. OPEC policy is to keep oil prices within a USD22-28 a barrel trading range, trimming or lifting supplies as necessary to achieve this.
The cartel's fear is that prices will be sent spiraling lower by the combination of its own oversupply, falling demand as the northern hemisphere winter ends, and the expected return to the market of oil from Iraq, an Opec member operating outside the quota system.
Ahead of schedule
Many questions over Iraq's return to the market - and re-integration into OPEC's quota system - remain unanswered. OPEC has 11 member countries, together accounting for 40percent of the world's oil output.
Iraq was not represented at the resent OPEC meeting and it will not resume exports until a new government takes shape and the future of UN sanctions and the oil-for-food programme is resolved.
US military officials said that plans to re-start production in Iraq's southern oilfields were ahead of schedule and on the day in question 50,000 barrels had been pumped. Production in the northern fields was expected to be restored to 800,000 b/d in two to six weeks from 21 April, they said. Before the war, Iraq was pumping about 2.5 million b/d - 1.7 million in the south and 800,000 in the north.
OPEC's new quota arrangements are effective from 1st June.
Saudi Oil Minister Ali Naimi said it was "very, very possible" that OPEC would decide again to cut production when it meets in Qatar on 11th June. The questions are whether or not the new regime in Iraq will care about the oil market at this point with a current dept of 70 billion USD.
The impact on world markets is hard to overstate. Saudi Arabia would no longer be the sole dominant producer, able to influence oil markets single-handedly. Given that U.S.-Saudi relations cooled substantially in the wake of the September 11, 2001, terrorist attacks—rifts that may widen further—a Saudi competitor would not be unwelcome in Washington. An unnamed U.S. diplomat confided to Scotland's Sunday Herald that 'a rehabilitated Iraq is the only sound long-term strategic alternative to Saudi Arabia. It's not just a case of swapping horses in mid-stream; the impending U.S. regime change in Baghdad is a strategic necessity.'
Washington would gain enormous leverage over the world oil market. Opening the Iraqi spigot would flood world markets and drive prices down substantially. OPEC, already struggling with overcapacity and a tendency among its members to produce above allotted quotas (an estimated 3 million barrels per day above the agreed total of 24.7 million b/d), might unravel as individual exporters engage in destructive price wars against each other.
A massive flow of Iraqi oil would also limit any influence that other suppliers, such as Russia, Mexico, and Venezuela, have over the oil market. Lower prices could render Russian oil—more expensive to produce—uncompetitive, which would cloud the prospects for attracting foreign investment to tap Siberian oil deposits. Russia's weak economy is highly dependent on oil export revenues; its federal budget is based on prices of USD24-25 per barrel. The deputy chairman of the Russian parliament's defense committee predicts that if a new Iraqi regime sells oil without limits "our budget will collapse".
US oil company executives have been quietly meeting with U.S-backed Iraqi opposition leaders. According to head of the Iraqi National Congress (INC), 'The future democratic government in Iraq will be grateful to the United States for helping the Iraqi people liberate themselves and getting rid of Saddam.' And he added that 'American companies, we expect, will play an important and leading role in the future oil situation in Iraq.'
The fact is that the World in 2025 requires 50 percent more oil than today mostly from the Middle-East. OPEC must increase the production from 27,4 million b/d to 56 million b/d. The environmental challenges will follow the increased oil consumption as the emission of CO2 increases by 59 percent.
OPEC faces an uncertain future and the story will be told by the market. The war is over but another battle has only just began.
References
www.usip.org
www.petrostrategies.fr
www.bbc.com
www.fpif.org
www.energy.gov
www.aftenposten.no
www.vg.no