Downstream News
Shell has given Norway its first demonstration of differentiated fuels with a car that runs simultaneously on both conventional fuel and powerful new Shell V-Power.
The car, used at the launch of Shell V-Power in Norway, recently clearly demonstrated the engine cleaning properties of V-Power, Norway's first differentiated fuel, compared with conventional petrol.
Shell scientists designed the car so that each half of the engine ran on its own fuel supplied from separate tanks. The car was driven around Oslo's streets for 2000 km before a special camera system was used to visually assess the engine-inlet-valve deposits in both halves of the engine. The valves on the side of the engine powered by Shell V-Power were noticeably cleaner.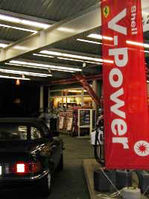 Following the success of the launch, V-Power is now available in most Shell service stations in Norway. Norwegian motorists have welcomed the clean new fuel that was designed to provide maximum power and a quick response using Formula 1 technology developed with Ferrari.
Anni Onsager, head of retail at Shell Norway, said hundreds of motorists had applied for free trials of Shell V-Power. "Up until now the choice has been between fuels and lubricating oils. Finally we can offer our customers diversified fuels."
She added: "There has been a great interest from the press and our staff are really enthusiastic about Shell V-Power."
Statoil launches own version of high quality petrol
Statoil, like Shell, has launched a new high quality fuel – Ultima 95. Ultima 95 has special qualities that keeps the car engine clean on the inside. The cleaner you keep the engine, the better and cleaner the fuel burns, and the better the motor runs.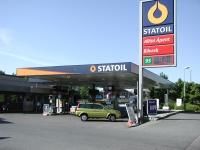 "Cars that are used primarily in urban areas and drive only a few kilometers at a time, easily become layered with grease and soot in the combustion system. These motors will take special pleasure from running on Ultima 95. In fact, all gasoline motors will run cleaner on Ultima 95," says Head of Petrol Products in Statoil Detail, Grethe Lundgaard.
Ultima 95 cleans the motor of grease due to certain additives. Statoil's regular petrol also has some of these additives, but Ultima 95 cleans and maintains the motor even better than standard petrol. And when the engine combustion is optimal, the car uses less fuel, which reduces carbon dioxide emissions.
"This new quality fuel is for people who care about their car. Ultima 95 is initially offered at 12 gas stations in the Oslo area. Pumps with Ultima 95 stand out in orange," says Grethe Lundgaard.