Defying the view that the U.K. central North Sea was too mature for a world-class discovery, EnCana is operating the Buzzard development, the largest oil discovery in the region in nearly a decade. The field, with an estimated billion barrels of original oil in place, is being developed by EnCana and its co-ventureres, with first oil anticipated in 2006.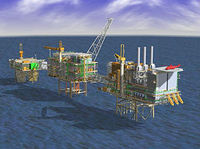 EnCana is designing and building the Buzzard production facility that will consist of three fixed steel bridge-linked platforms supporting wellhead facilities, processing facilities, and living quarters and utilities.
Twenty-seven production wells are planned, eight of which will be pre-drilled and available for production start-up late 2006. This drilling will be undertaken by a skid mounted jack-up rig located adjacent to the wellhead platform. The remainder will be drilled after start-up and are anticipated to allow production to reach its plateau level of between 180,000 and 190,000 barrels of oil per day by mid 2007.
An active waterflood programme will maintain reservoir pressure using produced water supplemented by treated sea water when necessary. Sixteen water injection wells will be drilled through two subsea manifolds located about one kilometre from the platforms. Four of these will be pre-drilled and available at the time of production start-up. It is anticipated that infill wells will be drilled to improve production in late field life.
When it is necessary to use oilbased drilling muds, the cuttings will either be shipped to shore for cleaning and disposal, or reinjected into a cuttings disposal well.
In order to accommodate the large volumes of oil and water, the facilities will have the following design capacities:
Oil: 200,000 bbls/d
Produced water: 275,000 bbls/d
Gross fluids: 345,000 bbls/d
Total water injection: 350,000 bbls/d
Seawater injection: 250,000 bbls/d
Total gas: 60 MMcf/d
Each of the three jackets will weigh around 6,000 tons, and each will be attached to the seabed with around 4,000 tons of piles. The topsides are being designed to be placed on the jackets in single lifts as follows:
Wellhead Topsides: 3,600 tons
Processing Facilities Topsides. 10,500 tons
Living Quarters and Utilities Topsides: 8,000 to 9,000 tons
An oil transportation agreement covering the Buzzard reservoir was signed with BP Exploration Operating Company Limited in November 2003 to export oil from Buzzard via the nearby Forties Pipeline System to Cruden Bay and then onto Hound Point in the Firth of Forth. An 18-inch pipeline will be laid from the Buzzard processing platform to the nearest point in the Forties System, about 28 kilometres away.
Gas will be processed on the platform and used for power generation. A heads of agreement was signed with Total E&P UK PLC and Elf Exploration UK PLC (the Frigg UK Pipeline Owners) in November 2003 to export surplus gas via the Frigg system. A 10-inch pipeline will be laid from the Buzzard location to the Captain 'T' point on the UK Frigg line, about 29 kilometres away. From there the gas will go to the St Fergus Gas Terminal. On the basis of the reservoir as it is known now, it is likely that the platform will become gas deficient for power generation five to seven years after start-up, and will then need to import gas. The agreement with Total and Elf provides for the supply of fuel gas at that time as required, as well as for commissioning and start-up.
With an enterprise value of approximately $25 billion US, EnCana is one of the world's leading independent oil and gas companies and North America's largest independent natural gas producer and gas storage operator. Ninety percent of the company's assets are in four key North American growth platforms. EnCana is the largest producer and landholder in Western Canada and is a key player in Canada's emerging offshore East Coast basins. Through its U.S. subsidiaries, EnCana is one of the largest gas explorers and producers in the Rocky Mountain states and has a strong position in the deep water Gulf of Mexico. International subsidiaries operate two key high potential international growth regions: Ecuador, where it is the largest private sector oil producer, and the U.K. where it is the operator of a large oil discovery.
EnCana and its subsidiaries also conduct high upside potential new ventures exploration in other parts of the world. EnCana is driven to be the industry's high performance benchmark in production cost, per-share growth and value creation for shareholders. EnCana common shares trade on the Toronto and New York stock exchanges under the symbol ECA.