The future of Norsk Hydro appears bright as Executive Vice President Tore Torvund sees it. Both oil prices and production are high, the development of the giant Ormen Lange is on track and Hydro will start talks with Russian Gazprom of a possible partnership on the Shtokman field in the Barents sea. But dark clouds are forming on the horizon – unless new, large oilfields are found, the entire industry could be facing a difficult future.
Since 1998, Hydro has more than doubled its production to an average of 530,000 bbls in 2003. "Things certainly appear very satisfactory in a short time context. Oil prices are relatively high, and the price of gas seem to follow the oil price much more than it used to. Combined with a high production, this gives us an acceptable return on our investments," Torvund says.
"In the long term, there is every reason to believe that the price of oil will remain high. Geo- political reasons is part of the situation. In addition, there has been very difficult to find new oil provinces. The truth is that there hasn't been any new, large oil provinces that will provide a long-term production. Basically, we are back to traditional areas. And there is a fundamental change – there is no more excess capacity any more. Demand for new oil is a lot higher than what we are able to meet."
Decline in the North Sea
Torvund sees no point in trying to hide his disappointment over the lack of success in exploration on the Norwegian Continental Shelf the last couple of years. "So far the Norwegian Sea hasn't become the success we were hoping for. We found Ormen Lange in the 15th round, but the 16th and 17th round have so far not provided much. And as for the Barents Sea, well so far it hasn't resulted in the volumes we were hoping for."
"BP recently published a report, claiming that Norway only have enough oil for left for about 8 years of production on the current level unless we find more oil. Do you share this view?"
"At current production level this is probably correct and certainly gives good reason for some serious afterthought. However, it is my impression that the authorities share our concern for this situation, as can be seen in the last report from the Ministry. Of course, the situation is most urgent with regard to oil production. The figures are a lot more comforting for production of gas."
And with the large European marked at its doorstep, gas have become increasingly more important for Hydro. "Especially since we're expecting a decline in British gas production, Hydro would like to strengthen our position in gas. That is why we consider it very important to gain a foothold in Russia."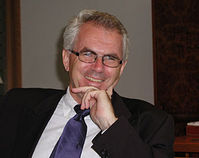 Russian Adventure
Torvund does not try to hide his enthusiasm when he speaks of the huge Shtokman field, more than six times the size of Ormen Lange and with possibilities to serve both Europe and the U.S. Located in the Barents Sea, some 600 kilometres north of Murmansk, the Shtokman field should certainly provide new challenges.
When it became known that Gazprom and Hydro will start discussions about a possible partnership, this was certainly not something that appeared out of the blue. For years Hydro has worked to become a major player in the gas trade.
"We have worked for years to get access to Russian and North African fields. Northern Russia and the Russian part of the Barents Sea is particularly interesting, as we should be able to draw on our experience and know-how acquired during more than 25 years in the North Sea. But it takes time. The Shtokman field was found in the 1980s and we have been talking with the Russians since 1989 – that's 15 years of building confidence and trust. But this is the way to establish oneself with the Russians. Today we enjoy a very close relationship with Gazprom. In addition, Gazprom has seen what we have achieved in the North Sea. Every new field we have put into production has been based on the experience from the previous ones," says Torvund and points to the three areas which Hydro hopes to be able to contribute.
Trust and Technology
"By using the sub sea technology we have developed for Ormen Lange, we will be able to develop this field without any platform. This will be a great benefit in an area with rough seas and thick ice for months during the winter. By avoiding a platform we will also be able to reduce the investment by circa 30 percent. And equally important, we think that this solution will benefit the environment the most, " says Torvund and continue "You know, when in full production this field will produce equivalent of all Norwegian gas fields put together. That is really something."
No timetable have been set, but as both the U.S. and Europe are interested, Torvund expects that the Russians would like to get ahead with the project.
"You mentioned that Hydro's technological experience have been important in establishing the relationship with Gazprom. Will you also bring along Norwegian subcontractors in this project?"
"I think the most important factor in regard to this question is the technology itself and the cost. The Russians will certainly choose the vendors they think are best suited. That said, many Norwegian companies have developed cuttingedge technologies in their particular fields. Undoubtly, companies that have established links with Russian companies will be in a good position to obtain contracts. I think it is important to understand that the Russians value long time relations."
Ormen Lange
In the beginning of July, Hydro awarded Aker Kvaerner the first major contract, valued at approximately NOK 2 billion for the Ormen Lange development.
"This is an exciting project for us for several reasons. First of all this marks the first really deep water development in Norwegian waters, with depths of 1000 metres. Secondly, we will bring the gas onshore and to the market without any platform through the world's longest pipeline. And thirdly, the sheer size of the project."
Estimated at an enormous NOK 66 billion, Ormen Lange is indeed large. Yet Torvund is definitely at ease with developments. "We have only progressed about four percent, and so far everything seems to be on track. Besides, we have put in 25 years worth of experience into this project. Our philosophy is simple. We have used a lot of time designing the field, based on the idea that designing is cheaper than welding. Therefore its very reassuring when our vendors tells us that our plans look good. We definitely have a good feeling for this project."
Take Nothing for Granted
Hydro's main concern is the situation in the Norwegian Sea. "I think everyone in the business, as well as the authorities are concerned about this. We must find more oil and gas. The 18th Round was a good start, with large areas awarded. This is very positive and will certainly result in an extended exploration activity. By this, the authorities have done their job by providing the industry with new interesting blocks. Now its up to us to make the discoveries. That said there is evidently a great difference of opinions between the different companies as to which blocks are the most interesting. And, there is no longer anyone who take it for granted that new, major fields will be found in the Norwegian Shelf."
Troubled Area
"What about the Barents Sea?"
"You know, Hydro will be the first company since 1997 to resume exploration in this area when we start up in November this year. So far 4 wells are planned. This is a great prospect and very exciting. The result could be decisive for our future activities in the Barents Sea. If we do make a large new find, we might have found the key to Barents Sea. The Shtokman field is the proof that there are hydrocarbons in the Barents Sea, but so far the results have been very disappointing in the Norwegian part of the Barents Sea. In addition, we have the disputed area between Norway and Russia. It is not unlikely that this area could prove very interesting indeed. My guess is that this will become more and more evident because of fields like Shtokman. This is also an issue were we who work in the oil business must respect that other considerations, like military and political matters, will play an important part in this area."
The bottom line is that although the future looks bright, there is a need to find more oil.