The product and appliance directive 94/9/EU, regulating equipment for use in explosive atmospheres, known as "ATEX" came
into force on July 1, 2003. Directive 1999/92/EU, which regulates standards for workplace safety, came into force on September 1, 2003, and concerns facilities and work places containing areas where flammable liquids, gases, or dusts may cause a risk of explosion. Such areas are usually known as "Ex areas", and are often "confined spaces", such as tanks or containers, located in places which are difficult to get to.
It is the responsibility of the employer to assess the risk of explosion, based on a particular classification of Ex areas, and to create a safe working environment for employees who work in explosive atmospheres. A new obligation on the operator is the creation of
an Explosion Protection Document, in which, amongst other things, responsibilities, safety of the work environment, and equipment to be used must be defined and explained. The document must include possible hazards and errors, and must specify
tools, such as lighting, to be used in tasks such as in maintenance and repair.
Any device or tool listed in the Explosion Protection Document must be certified for use in an Ex area. Working in a tank or container is always difficult and unpleasant, especially when there is insufficient lighting. In such cases, lighting is very important to health and safety, and suitable equipment designed for portable use is essential. Most current designs of lights, many of which
are still in use, do not comply with the ATEX directive. Choosing the right equipment makes it easy to achieve the appropriate safety level during maintenance and repairs.
The large size and great weight, as well as the low illumination power and high price, of portable lights for use in Ex areas have long been a problem. Now, operators are faced with the lack of availability of certified Ex equipment and devices. However, Centaurea Ltd. specializes in the field of lighting, and has responded to an initiative from the oil industry to design and produce a portable light that is suitable for zone 0 and fulfils all the latest safety requirements.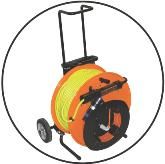 Centaurea Ltd has, in cooperation with its client Norsk Hydro, developed an LED light which complies with all the aspects of ATEX directive. This LED light has a 100 times more illumination power than previous LED lights. Practicality and the demands of "confined space" work areas have been taken into full consideration in the design of this Slam-Zero light. It has been designed to be a personal portable light, having a variety of hanging and hook options.
Special attention has been paid to the choice of surface materials and there are no sharp parts that could scratch other surfaces. It is genuinely small and lightweight, weighing only 650 grams without cable. The cable between the light and central unit has been designed with particular care: it is mechanically and chemically durable and it can be used in zone 0 areas.
The length of the cable can be 15 to 150 metres. This LED light is easy to use and maintain and the latest lighting technology allows the operating and purchase costs to be only a fraction of those of previous models.