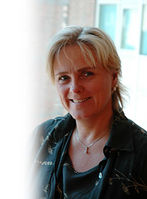 As one of the most recent additions to the current government, Thorhild Widvey has left her mark on the job of Minister of Petroleum and Energy. We checked in to sum up her first year in office, and to talk about the future of the Energy sector in Norway.
Walking into the Minister's office and shaking her hand, one is instantly struck by her energy. This is perhaps not surprising. In the year or so she has been in office, Thorhild Widvey has been a very active member of government, travelling the globe. She was appointed to the Minister's post in June, 2004. By the time this interview took place, she had conducted meetings with 24 different energy ministers, as well as a host of industry executives.
We meet in her office, a spacious but rather austere room – keeping with Norwegian Social Democratic traditions – seated at one end of a big meeting table, I ask her what she thought had been the highlights of her first year as Minister of Petroleum and Energy. She finds it hard to single out one specific thing, feeling that everything has been fulfilling.
Networking
"I have had the opportunity to meet with many ministers and industry leaders since I was appointed to this post. The most important part of my job is to promote Norwegian supply and production industry across the globe. It is a privilege for me to be build and maintain the kind of network that connects us to the rest of the world," she says. Norway has a pragmatic and professional relationship with other energy-exporting countries, organisations, and the industry as a whole.
The most important part of my job is to promote Norwegian supply and production industry across the globe.
Norway is a member of the International Energy Agency (IEA) but not of the Organization of Petroleum Exporting Countries (OPEC). But there is a good dialogue between Norway and OPEC. "We have to keep a close relationship with the other oil-producing countries. We have a constant dialogue with OPEC, both through bilateral meetings, such as during the OPEC Conference in Vienna in the fall of 2004, and through informal contact throughout the year. It is important to focus on exchange of information and views and a mutual understanding of the market , and I feel we are doing just that," says the minister.
"Our sector is immense, with boundless possibilities, and I feel strongly about focusing on those possibilities," Widvey says. "We are facing a rapidly increasing trend of internationalisation and globalisation. It is important that we stay optimistic, and focus on the opportunities this gives us. The energy industry needs to keep a positive outlook, and I want to contribute to this."
Global
Energy issues have always been global in nature, but there is no doubt that this is truer than ever. "There are few unexplored areas on our shelf in the North Sea and part of the Norwegian Sea," says Widvey. "We have to focus on research to keep the mature fields profitable for as long as possible, but, at the same time, we have to look at expanding our field of operations." Norwegian companies are expanding their international portfolios, strengthening their presence in countries such as Russia and Kazakhstan, and moving into new areas, in Africa, Asia, and across the world. "It is very important for us to expand into new markets," Widvey says. "My role is to try to open as many doors as possible, and to act as an ambassador for Norwegian know-how and expertise."
Widvey sees the Norwegian oil and gas industry as a reservoir of knowledge and competence. "New technology is important in this continued focus on research, we can realise the profitable and safe extraction of even more of the potential resources on our shelf – in the North Sea, the Norwegian Sea, and now extending into the Barents Sea."
The 19th Licensing Round
The 19th licensing round has just been announced, and Widvey is pleased with the nomination round. "We are always looking for broad participation. The nomination round garnered great interest, and it's good to see that a wide range of companies – large and small, domestic and international – want to take part," she says. "In addition, the next APA – the awarding of licenses in predetermined areas – is due later this year, with another round scheduled for early 2006. This licensing round focuses on the Norwegian Sea and the Barents Sea – we are finally taking the step into what could be a whole new petroleum adventure for Norway. It marks a significant shift towards the north." Widvey sees this as a necessity. There are several strategic goals: "On an international level, it is important to provide more energy for the growing global need. It has been estimated that global energy demand will be 60 percent higher by 2030, and we have resources that can be tapped into to meet this demand," she says.
"Domestically we have to keep providing opportunities for the industry. There are increasingly few opportunities left for any major discoveries in the mature areas in the North and Norwegian seas, but the Barents Sea has remained untouched. We have explored the area, and while we do not have any complete projects in the NOK 50 billion bracket, the finds have been very promising."
My role is to try to open as many doors as possible, and to act as an ambassador for Norwegian know-how and expertise.
Groundbreaking Agreement
In June this year, a historic agreement was reached between Norway and Russia. The oil and gas giants Statoil, Hydro and Gazprom signed a contract that ensures cooperation in the exploration and development of the Barents Sea. This is expected to yield major profits and a long-term development plan for both countries. Widvey is understandably pleased, and she understands the sensitive environmental and political questions connected to the Barents area. "This is an important area, shared between Russia and Norway," she says. "We have reached a diplomatic understanding – a level of good communication and constructive dialogue – and cooperation has evolved in the last few years. We have agreed on a common infrastructure and on a shared set of rules to go by – when it comes to environmental issues, as well as safety. This has enabled us to start operating in the Barents Sea." The Barents area has been a tantalising prize for operators and governments for several years, but has remained undeveloped until this licensing round. One major reason is the long road towards a Norwegian-Russian agreement, but continuous technological developments have also played a part. "We are making progress every day," says Widvey. She mentions subsea solutions, and offshore operations run from onshore bases, at Snøhvit and in other fields, as a major breakthrough. "We have made steady progress in all areas of exploration and operation," she says. "The environment, safety, cost efficiency – we are getting better every day. We can now drill deeper, operate at greater ocean depths, and farther off shore than ever before. And this has happened as a result of both Norwegian and many foreign companies contributing and working together."
In the coming years, a lot of focus will be on the northern hemisphere, and the northern oceanic petroleum resources. Estimates show that around 25 percent of the world's untapped oil and gas reserves could be in the Arctic. "These are remote areas, but they are also peaceful – without armed conflict. On the other hand, they are delicate areas, environmentally speaking," Widvey says. So careful exploration is warranted.
Our Neighbour Across the North Sea
In April this year, Norway signed a treaty concerning cross boundary petroleum cooperation with the United Kingdom. This is a very important agreement to help regulate the relationship with our neighbour across the North Sea. So what effects does the minister expect this treaty to yield in the near future?
We have a great challenge ahead of us when it comes to getting young people interested in our field.
"Several specific projects have arisen as a direct result of this agreement. But most importantly, it provides a framework for cooperation, between governments, but also within the industry in both countries. It simplifies things a lot – less paperwork and more operation. In addition we aim to bring better and more efficient use of the existing infrastructure. A goal is to always be able to use the most cost-effective and reliable available solution, and this agreement makes the choices clearer among a wider array of options." Widvey is optimistic about the effects of the treaty, in other words. "We are looking to optimise pipeline traffic and efficiency – in order to be able to handle tomorrow's demands as well as utilising available capacity today," she says. "There may very well be a connection up to the Barents Sea – we could extend the existing North Sea pipelines, which run to St. Fergus in Scotland from several fields, such as Stafjord B and Frigg."
Much to Gain
As the United Kingdom has a growing need for energy imports, Norway can gain a lot from a well designed treaty. Already, the Ormen Lange field is expected to provide 20 percent of the total UK consumption of natural gas when the field comes on stream in October 2007. "Obviously, we have a special focus on our closest markets," Widvey says. "We are a reliable supplier of natural gas, and we can provide a lot of it – this makes us a natural supplier for the UK market."
Thorhild Widvey has confidence in Norway's future as a major player in global oil and gas. But in order to stay ahead of the game, we need good minds in the business and a constant supply of fresh competence. In closing, I ask the minister if she is optimistic about recruitment to the Norwegian energy industry. "The recruitment situation varies a great deal," she says. "We have a great challenge ahead of us when it comes to getting young people interested in our field. There is a lot of competition. Everybody is fighting for the best minds – and we have to stay active and provide a framework for our sector to make sure we are attractive to students and the coming generations."
The industry needs to expand its workforce with skilled, highly motivated employees. "I know companies that would hire good 100 engineers on the spot if they could find them," Widvey says. And in a booming industry, with a long view of success, and fresh challenges every day, we should focus on getting the growing generation interested in being a part of the oil and gas industry. Thorhild Widvey has a "can do" attitude and positive outlook that can only benefit the industry she represents.