Technip Offshore Norge (TONOR) has through the last decade played a dominant role in development of subsea oil and gas fields on the Norwegian Continental Shelf (NCS). TONOR is located in the Oslo area (Strand) with a workforce around 190 persons. In addition, the company's spoolbase for welding and load out of rigid pipelines in Orkanger employs around 70 to 80 when in full operation.
In Norway, the operations are mainly linked to EPCI projects for the development of floating production or subsea oil and gas fields. Through its base in Orkanger and the group's installation vessels, especially the reel lay vessel Apache, TONOR has welded and installed a total of ~1,360 km of flowlines/pipelines on the Norwegian Continental Shelf. TONOR has also been the leader on flexible pipe supply installation as well as a dominant contractor for the installation of risers, umbilicals, subsea structures, protection work and ROV and diverassisted operations.
Busy Seasons
2005 follows a long trail of busy seasons with approximately 500 vessel days to complete the Kristin, Snøhvit and Norne projects. Recent awards include Marathon Alvheim, Norsk Hydro Vilje and Fram Øst, which are all significant pipeline projects to be installed in 2006. TONORs scope of work for the Kristin Project has included, among other things; supply and installation of all flexible risers, fabrication and installation of all 13% Cr production flowlines (including their Direct Heating Systems), installation of the infiled umbilicals and piggy-backed methanol lines, fabrication and installation of the condensate export line to Åsgard C and the performance of all subsea tie-in works. The lifting and installation of the production manifolds, ~200T each, was also included in the works.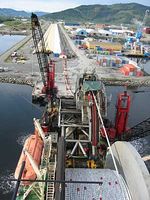 For Snøhvit TONOR's scope includes fabrication and installation of the 16-inch 13% Cr infield production lines, the 8-inch CO2 injection line (~150 km) and the twin 4-inch Methanol lines (~300 km) plus installation of the umbilicals. Fabrication and installation of expansion spools and performance of subsea tie-in works, including those required for the 28-inch gas export line, is also part of the scope.
The Norne project has a smaller scope but included the world's first use of clad carbon steel pipe for an offshore pipeline. This 15-inch pipeline was fabricated at the Technip facility in Orkanger and installed, complete with a direct heating system and associated anode joints, by Apache. The scope also included fabrication and installation of a 5-inch flowline.
Marathon's Alvheim Project, for installation in 2006, represents a departure from traditional contracting practices for Norwegian Operators. This award to TONOR is for a full EPCI project covering everything to be supplied and installed from the tie-in interface to the APL buoy to the tie-in interfaces to the subsea wells. Hence, the contract includes supply and installation of flexible risers, riser bases, flowlines, expansion loops, umbilicals and manifolds, plus performance of all required (diver) tie-ins, trenching and protection works, etc.
The Norsk Hydro Vilje project covers the fabrication and installation of flowlines tied back to Alvheim.
Fram Øst, an EPCI project for Hydro, is similar in scope to the Fram Vest project completed in 2003. It includes all work related to risers, flowlines, trenching, rock dumping, tie-ins and umbilicals. The major difference to Fram Vest will be the use of clad carbon steel for the production flowline and plastic lined carbon steel for the water injection line, instead of the 13%Cr used on the previous job.
Keys to Success
One of the Technip strengths is the comprehensive construction fleet, including the lay vessels Apache and DeepBlue which are state of the art reel lay vessels. DeepBlue is mainly allocated to the deepwater projects in the Golf of Mexico and West of Africa, while Apache is extensively used in the North Sea.
Another key element in Technip's success is the strong focus on technical competence and key products. In Norway and UK, Technip has been heavily involved in development of improved welding and inspection methods for pipelines, including exotic steel materials, as well as development of pipe-inpipe concepts, electrical heating concepts and inner plastic liner. "This competence, developed over a number of years, has led to a preference among several oil companies to look our way for complex projects," says Hallvard Hasselknippe, General Manager of TONOR.
The ability to take on and control complex LS EPCI projects is another key element to TONOR success. Project management skills, as well as multi-discipline engineering skills, are mandatory to successful projects and a positive bottom line.
TONOR has big ambitions in Norway, and will continue to grow its personnel, technology and business in general, including a significant value creation in Norway. With several key Norwegian subcontractors and hope to strengthen the relations with these and with clients over the years to come, TONOR offers sound project management and viable and creative solutions for future EPIC subsea/ pipeline projects.