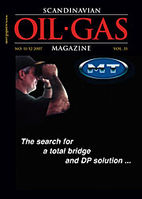 No Quick Fix
As we go to press, oil prices are flirting with 100 dollars a barrel. Perhaps as you read this, it's already happened, but, if not, it's bound to happen soon. Round numbers are heavy with significance.
Likewise, the expansion of the world's economy, which along with the ever-increasing world population has ensured the continuous escalation of demands on the energy supply (not to mention the effect of almost any sort of political, social or natural calamity). So it's a fairly safe bet to say that the days of inexpensive hydrocarbons are thing of the past. Some say a "natural" price for oil in the near future would be in the neighbourhood of USD 60, but that's still double the price of the early years of this decade. But – at the same time – the cost of exploration and extraction is on the rise.
There's also a growing belief that we either have reached peak production levels or that we've left peak levels behind, so it may not be long before prices approach with at new "meaningful" high.
But what about the giant finds and projects? In this part of the world, we have the giant gas fields Ormen Lange and Snøhvit now on-line, and soon Gazprom's Stokman field will begin to be developed. We've also recently heard about the Tupi find in offshore Brazil, with reserves estimated in between 5 and 8 billion barrels. Such developments do help, but considering (using very conservative round numbers) that the world consumes approximately 80 million barrels of oil per day, the field, at 8 billion barrels, would be consumed in just 100 days.
Recent reports from the International Energy Agency (IEA) and OPEC look forward to 2030, and both gaze to the East to assess the growing impact of Chinese and Indian energy demands (demand may reach 120 million barrels per day). As these two countries grow increasingly more wealthy, their energy needs will put them on par with current US consumption – China is already second only to the US. Can the world expect developing nations to forego energy-intensive consumer items such as automobiles, computers and family vacations due to the stress it will put on energy markets?
There's also the planet to consider. Almost every one agrees that humanity has changed the world's climate and will continue to do so. Moreover, we have the added problem of finding ways to meet growing energy demands while we attempt to moderate or even lessen the effect on the planet.
It's not reasonable to simply stop producing hydrocarbons. The alternatives are not yet mature enough to meet the demand. Nor is it realistic to think that we can somehow immediately cease carbon production.
In Norway, many have protested the country's first natural gas-fired power plant at Karstø. The media has bandied about a figure that claims that the plant will release carbon on par with that of 400,000 automobiles. This may be so, but that also means that if Karstø burned coal, the levels would be the same as 1.6 million autos. Realistically, converting near-by coal-burning plants to natural gas would mean far less release of carbon that to simply turn off Karstø.
All this leads to the reality that there will be no quick or easy solution. Decades will be needed to transition to better ways of producing and using energy, and it probably won't be painless. Alternative and renewables are needed and welcome. In the end, we may surprise ourselves at how we use our power to innovate to develop new energy sources.