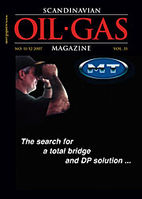 This year's been one of our busiest ever, with a seemingly unending sequence of big news – from the StatoilHydro merger to Ormen Lange and Snøhvit production commencement to Shtokman and Tupi. There's been so may big events that the day-to-day activity such as contract awards and technological developments are all to often overshadowed, although the amount this kind of information coming in emphasises an incredible increase in activity. All together, I hope we've been able to give you more than a taste of everything that's been happening this year.
It's also been a active year for us, visiting as many events as possible – taking the pulse of the industry, you might say. In October, this year's DOT, which took place in Stavanger, was a real treat for us – be sure to check out the review and photos.
Traditionally, this final issue of the year has been a time when we look back over the year as well as forward to the coming year. And to help us to present this state-of-the-industry perspective is an impressive collection of the best the field has to offer.
From OPEC and the International Energy Agency (IEA), we have excerpts from their major annual reports. Both organisations provide their impression of the current state of supply versus demand. What is of particular interest is that both focus on the coming decades – forward to 2030 – and the prospects for world-wide energy requirements in light of the growing demand from China and India.
Douglas Westwood has contributed an overview of their recent The World Deepwater Market Forecast report, which explains the "whys" and "hows" of the projected growth in that industry segment.
We also have reports from two mammoth fields. The first examines the effect of StatoilHydro's partnership in the development of the Shtockman gas field, along with Gazprom and Total as well as the prospects for the supply industry. From across the Atlantic and south, we hear from Brazil about the latest discovery for Petrobras. The Tupi field stirs the imagination, with 5 to 8 billion barrels awaiting production.
Following up on the Shtokman news, DNV has provided a look at the kind of standards and certifications will be needed to adapt to Arctic conditions.
As for technology, we have a selection of articles that look at control-room video – from monitors to systems to video streaming. Marioff and TNO have contributed articles that emphasise safety – concerning fire suppression systems and lifeboat design.
And the list goes on and on, making this edition what we hope is a good transition into the coming year. And as always, we wish all our readers
A Joyous Holiday Season
&
A Peaceful and Prosperous New Year