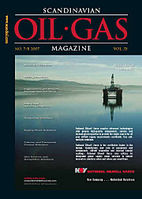 This year's summer edition it truly ambitious. We've worked hard to give all of our readers something special as they return from the summer holiday season and jump into the busy September-October conference season.
And one reason that this year has been ambitious is that we here at the magazine are gearing up to attend several conferences, including Offshore Europe in Aberdeen and the Deep Offshore Technology Conference that will take place in Stavanger. To help you get ready, we've included a quick preview for both conferences.
To help provide some insight into the action in the North Sea – and even further north into the Barents Sea – we've been talking to quite a few of those who do much to shape industry activities in the region.
From Norway, we've interviewed the Minister of Foreign Affairs, Jonas Gahr Støre, who provides insight into how the country interacts with it's North Sea and Barents Sea neighbours. His thoughts help build a context for understanding Norway's unique position the region.
Also at the ministerial level, we've interviewed both the UK Minister of State for Energy, Malcolm Wicks, and Norway's Minister of Petroleum and Energy, Odd Roger Enoksen. Although the two men view the North Sea from two very different points of view, their opinions are often quite similar.
And that's not all. We've also been in contact with the Energy and Environment Committee in the Norwegian Parliament and the result is an interview that includes both the committee's Chairman, Gunnar Kvassheim of the Liberal party, and the First Deputy Chair, Børge Brende of the Conservative party. From seemingly opposite ends of the political spectrum, they tend to agree more often than you might think.
And that's only a beginning – this issue also includes much much more.
We have a large selection of articles by experts on a large number of topics concerning pipelines. From pipeline construction, maintenance and operations to overcoming the difficulties of pipelaying on irregular seabeds.
Have you been thinking subsea lately? So have we. From deepwater solutions and subsea developments, we hear from experts on a wide range of the latest subea technology.
Other technical subjects – too numerous to mention here – are among this issue's pages. We think we've got a real "page-turner" here.
This issue also holds several market reports – looking both at the recent past and toward the future. Topics for these include LNG, oil and gas, as well as a North Sea preview that focuses on exploration development trends in the Norwegian continental shelf.
Our focus on United Kingdom and Scotland includes a number of North Sea suppliers that contribute greatly to the making the theme of the section – Maximising UK Continental Shelf Production – a reality.
So, as you browse OE 2007 and DOT, keep an eye open for us. When you see someone representing the magazine, be sure to let us know what you think of this edition – and what you think we can do to make it even better in the future.