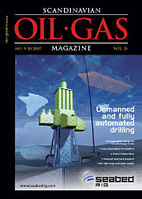 As the North Sea matures, we see the industry adapt and innovate its way towards increasing recovery rates, sometimes adding years (if not decades) to fields.
Likewise, operators have made significant strides in finding methods and means to tackle fields that were once thought too marginal to pay off.
In this issue, we've tried to present a snapshot of some of the efforts being made to exploit marginal and mature assets. With fewer new large oil and gas discoveries in the North Sea, oil companies large and small are focusing on ways of extending the life of their mature assets.
With out a doubt, the price of oil has some effect on decisions to develop marginal fields, but the technology and expertise has progressed significantly as well. Assets that would have been ignored or abandoned as little as a decade ago are being looked at in a whole new light.
Perhaps we can soon say that the industry has marginalised marginality.
But there's nothing marginal about health and safety. Traditionally, the fall issue of Scandinavian Oil-Gas Magazine has examined the most pressing industry issues in health, safety and the environment (HSE), and this year, we've continued, including a broad spectrum of articles that cover governmental and labour HSE policy, to employee training, to innovative new practices and equipment, not to mention the task of protecting employees in areas where the workplace danger includes kidnapping, assault and even murder.
This issue also includes a look south to Africa. We have an article that describes the current situation in Tanzania and Mozambique, where they are experiencing the dawn of the East African oil boom. The oil is there, but will the region be able to supply a large enough work force?
We also have a pair of articles from the world of finance. Société Générale has contributed an oil price forecast for the coming months and years. The report states that in recent months have been the fundamentals of supply, demand, and stocks have driven prices, and they expect that this will remain the case through the coming winter and into 2008. From PricewaterhouseCoopers we hear about how record high commodity prices, surging global demand that is outpacing the traditional energy supply, and an increasing discussion of alternative energy supplies have lead to a three-way split in the industry, between national oil companies, international oil companies and oilfield service companies.
On the technical side, we have contributions that include wireless process visualisation, gas flow measurement, ocean-bottom 4D seismic, and simulation for flow, thermal and stress. Be sure to check out the new FMC Technologies' workshop at Ågotnes as well. Another tradition for us this time of year is to make up the Media Plan for the new year.
We've just completed the job, and you can download a pdf of the 2008 Media Plan at www.scandoil.com – just click the Media Plan link.