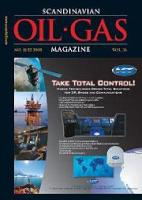 Ring in the New
Traditionally, we here at Scandinavian Oil-Gas Magazine take the opportunity of the final issue of the year to look towards the coming year – as well as looking back over the year that's ending – to try to provide context for how the new year's activities might play themselves out.
And this year is no different. The current economic situation makes for a wealth of possible discussion topics, and we have a great line-up of context-building articles to ponder in these long winter nights.
The release of the World Energy Outlook 2008 by the International Energy Agency in mid November has created an abundance of headlines (How many Saudi Arabias do we need…?), especially in light of the current economic turmoil and the recent dramatic drop in oil price. We look at some of the highlights in this year's WEO, and we were very fortunate to meet with Dr. Fatih Birol, Chief Economist and the Director of the office responsible for the economic analysis of energy policy at the IEA. Our informal discussion on energy economics was enlightening.
Dr. Birol told us that President Elect Barack Obama's energy plans for the United States fit well with WEO 2008 recommendations, so we also took a quick look at the major points of the Obama-Biden "New Energy for America" plan, including its recommendations for US oil and gas production.
Looking specifically at the current market turmoil, Infield Systems Limited has supplied us with a brief commentary that explores the current economic conditions, outlining potential and expected effect on on-going activities and forecasting up-coming activities within the offshore oil and gas.
We also hear from Société Générale, who examines how crude prices have fallen so dramatically lately. The author points out that although weakening economic and oil fundamentals have contributed significantly to the price slump, non-fundamental factors have been even more important.
Looking back over an exciting year in offshore Brazil in this tenth year after opening its oil market to the private sector, we have a report that examines some of the activities of the 72 companies working in the region. We see that – attracted by pre-salt reservoir opportunities – foreign firms have been flocking to close deals with Brazilian partners over the past year.
Gazing ahead to the coming year, we also have a report on Norway's 20 richest developments – projects that will fill out well over USD 20 billion in oil and gas investments. Energy industry analysts Douglas-Westwood have provided us with results from The World LNG Market Report 2008-2012, including some of the thinking that helped the authors frame their views.
Next we look to the East, where rig charter rates are expected to fall in offshore southern Asia. The turmoil in the financial market, as well as the fall in crude prices, have hit charter rates of offshore drilling rigs around the world.
And there's much more, but I've only space here for one more tradition – and that's that all of us at Scandinavian Oil-Gas Magazine would like to wish you

A Joyous Holiday Season
&
A Peaceful and Prosperous New Year