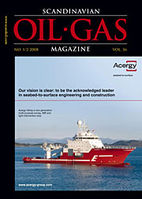 As you begin to leaf through this issue, you'll find that we've included a great deal of input from a number of those who provide decommissioning services to the industry. From dredging to cutting to lifting – and most everything in between – we have received an impressive amount of information that we share with you here.
The North Sea, as a mature province, has an increasing number of decommissioning projects on the horizon, both in the UK and Norwegian territories, and the companies featured here will all certainly play an important role in this growing market's future.
As you look through the decommissioning section, you'll see that AF Decom Offshore will be removing the Kittiwake loading buoy and GTO is further refining the dredging capabilities it has put to use in projects such as Ormen Lange. The newest generation of heavy lifters are getting closer to being a reality, and we have updates about their progress from MPU Offshore Lift and SeaMetric International. D&F Green Decom has also provided a glimpse into the future, describing its efforts to develop sustainable environmentally friendly oil field abandonment tools and concepts.
Because most intervention operations are now beyond diver depths, remotely operated vehicle (ROV) systems have become a vital factor in the success of offshore operations. In this issue, Acergy and Schilling Robotics explain the benefits of the jointly developed Acergy Core Vehicle (ACV™). Subsea intervention innovations from Perry Slingsby have led work operations from 300 feet in the early days to 4,000 metres now. In this issue, the company tells us about its newest reliable subsea work system – The Triton® XLX ROV.
We've also been fortunate to receive interesting input about recent pipeline projects. Pipeline solutions supplier Corus Tubes has contributed an article concerning the high frequency induction (HFI) steel linepipe they provided to the recent Apache Project. HFI has been on the market for more than 20 years, having been developed specifically for use in high-integrity onshore and offshore applications. Bredero Shaw Norway has also provided us with information about their work for the Tyrihans Project, where Thermotite® insulation for large diameter pipes in combination with a direct electrical heating system was used.
Along with our in-depth media focus article in the Lifestyle section, we've now added a page that looks at the some of the latest gadgets. If you are one of those who's always on the look out for the next "have to have" device (Tool or toy? The debate rages on….), then be sure to check out this new feature.
Now that this issue is about finished, we're getting ready for OTC in Houston and UTC closer to home in Bergen. Thinking even farther into the future, ONS will once again be held in Stavanger in the summer. As we prepare for these events, we would appreciate any input our readers might have (including hot gossip) that would help make the coming issues even more interesting. Just send a note to editor@scandoil.com – any ideas or suggestions are welcome.