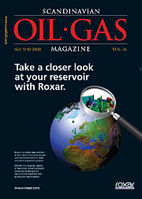 It Matters
In many ways, most of what's in this issue serves as a review of the recent Offshore Northern Seas conference. With its Energy for One World theme, ONS celebrated yet another year of breaking records. We've been busy following up on "discoveries" we made during this year's event.
We are very honoured to include an interview with Bente Nyland, who was sworn in as the Norwegian Petroleum Directorate's third director general last December. We caught up with Ms. Nyland at the NPD at their ONS stand – It Matters – with its focus on responsible development and use of Norway's and the world's ultimately limited resources. Be sure to check out her take on how things are shaping up on the Norwegian Continental Shelf.
Also from our visit to ONS, we also include an interview with two directors and a general manager from IBM, who explain their position when it comes to integrated operations, including remote, real-time data from multiple wells to aid in making the best production decisions. The supercomputing giant touts ramping up profits by summoning data analysis across all fields, not just on one specific field's wells.
To be fair, we have been to other conferences since ONS. Continuing with the integrated fields theme, we attended the Norwegian Petroleum Society's Integrated Operations seminar in Stavanger to learn more about harnessing communications technology to harvest "billions of dollars" in extra value offshore.
We also have a report from the Rio Oil & Gas Expo and Conference as well as interesting reading about Brazil's first pre-salt oil. It was early in September that Petrobras brought the first oil from the pre-salt layer in its Campos Basin Jubarte field. This region has been a hot topic of late, and Petrobras estimates a total of USD 114 billion will soon be spent in offshore Brazil as a result of these massive pre-salt finds. So it's no wonder that the level excitement at the Rio event was high.
Interested in the latest technologies? Paradigm tells us about its subsurface knowledge unified approach (SKUA) – a pure 3D method that eliminates the need for pillars. Horizons and grids geometry are constructed simultaneously in the 3D space, so geobodies, reservoir properties and other attributes can be correctly modelled in their depositional state. Prospect Flow Solutions relates how computational fluid dynamics (CFD) is being used ever more widely in the oil and gas industry, and that one of the earliest and most significant uses of CFD was in safety engineering.
Continuing with the health, safety and the environment theme, Reflex Marine reviews evacuation methods, concluding that no single method is best – much depends on the situation. We also have a look at Noreq's new free-fall lifeboat.
This issue includes a look to Africa, focusing on Libya and Nigeria. In Libya, reforms have opened the way for investment, and we look at current market activity. Nigeria continues to suffer from unrest. The Movement for the Emancipation of the Niger Delta's "Declaration of Oil War" against the oil majors and Nigerian government has been troubling, but an article from Bergen Risk addresses the question "Is it war now?"
And there's much more. So, read on – and, as always, if you have any news you'd like to see us include in the future, just let us know.