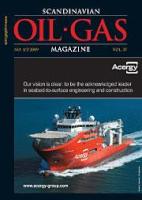 New Year
Yes, it's a new year, and everyone is taking a deep breath and bracing themselves for what this year will bring. There seems to be an all-prevailing "wait and see" feeling throughout business world, especially in the energy-related industries. One thing is for sure. As always, things will change – we here at the magazine are of the mind that this means eventually for the better.
Don't forget to exhale. There's a great deal of bad news to be found, but you don't need to look far to find positive, promising news as well.
We've looked closely at the credit crunch's effect on the exploration-side of the industry. You would expect that the news about drilling rig newbuilds wouldn't be too good, but our report reveals that activity levels are positive and shipyards are busy. This bodes well for the time when the price of oil again reflects it's true market value.
Continuing with offshore drilling, we have a report of new technology from Northern Treatment. Slop – the waste liquids associated with the drilling process – is currently stored and returned to shore for processing. The company has successfully tested an offshore treatment unit that has proven that it can help to eliminate the hazards to personnel and environment arising from shipping slop to shore – not to mention the savings in shipping costs and reductions in emissions.
We also focus on decommissioning, with a contribution from NCA, outlining the company's experience with the fields that are currently being undergoing some form of decommissioning in the North Sea: Ekofisk, Frigg, North West Hutton, Inde and Miller. From well, process and pipeline services company Qserv, we hear about how they have specifically contributed to the ongoing well abandonment work at BP's Miller field.
In addition, we look at a number of interesting technologies in this issue. Thrusters for FPSOs, dynamic-positioning solutions, crew transfer and process technologies are all included.
Aberdeen-based Caledyne's retrievable metal-to-metal (MTM) downhole seal system is also featured, a product that has dramatically increased the safety and reliability of wells and downhole activity. The company describes the recently completed first successful installation in the Asia region of its Caledyne Retrievable Bridge Plug, which incorporates the revolutionary MTM seal.
We again look at the new President in the US in our Media section. President Barack Obama is that country's first "wired" President – something that has implications for his call for a change in the way America does it political business.
Be sure to check out the upcoming conferences and events for the first part of this year. We plan to attend many throughout the year, and we – as always – look forward to seeing you there.
If you come across any positive news that you don't think is getting the coverage it deserves (or any under-covered news, for that matter), be sure to drop us a line – and we'll see what we can do about reversing that trend.