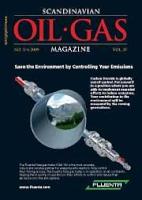 The Long View
The Offshore Technology Conference – OTC – is just around the corner, and in this issue we've worked to give you a little taste of what to expect as OTC celebrates its 40th anniversary. OTC focuses on the development of offshore resources in the fields of drilling, exploration, production and environmental protection – and we've highlighted some of the activities that make this conference one of the world's foremost events.
Our OTC preview includes a look at the winners of the OTC Spotlight on New Technology awards, which honour proven, innovative technologies that are less than two years old. The technology is impressive, and we at Scandinavian Oil-Gas Magazine congratulate the winners.
Closer to home, we met with Liv Monica Stubholt – Norwegian Deputy Minister of Petroleum and Energy – just after she returned from the mid-March International OPEC Forum in Vienna. The interview was enlightening, covering a wide range of topics from oil and gas to renewables and Norway's future energy outlook. Later that same week, Ms. Stubholt announced that she would leave the Ministry to take a position with the Aker Group, reportedly in Aker Clean Carbon, which focuses on carbon capture and storage – we know this is a topic about which she's enthusiastic.
Looking back over to the US Gulf of Mexico, we include information from StatoilHydro – one of the largest leaseholders in deepwater US GoM. The company already is producing from Independent Hub and Front Runner, and is scheduled to have both Tahiti and Thunder Hawk come on-stream this year. Recently, StatoilHydro was the highest bidder on 23 leases in the mid-March central area lease sale in the US part of the GoM.
We also hear from Infield Systems, who, focusing on activities in the GoM, examines the differing domestic challenges of the two largest US operators – ExxonMobil and Chevron. Chevron has actively pushed frontiers as operator and ExxonMobil has become a strategic partner in many of the larger deepwater GoM projects. Both companies are flush with cash, and speculation is rife that one of them is on the verge of a major new acquisition.
We also look at the US Environmental Protection Agency (EPA) international programs to reduce methane emissions. We spoke with EPA Program Manager Carey Bylin during her recent visit to Oslo. Ms. Bylin met with both industry and the authorities to discuss their possible involvement in the EPA's Natural Gas Star Program and the Methane to Markets Partnership.
Hopping back over the Atlantic, we look to the far north at the world's largest undeveloped offshore gas field, Shtokman in a report that the 3.8-trillion-cubic metre Eastern Barents Sea prize has picked up momentum and it looks like Russia's USD 15-billion gas project is unstoppable.
We also have results from energy industry analysts Douglas-Westwood's World FLNG Market Report 2009-2015. In our article, the Report authors relates some of the thinking behind their conclusions.
Looking to the East, we also include a report about how Asia's governments and oil industry are dealing with the financial fall-out from the credit crunch.
And that's only part of what you'll find here. All in all, this issue covers a wide range of topics. But if there's something you'd like us to look into in the future, be sure to send us a note.