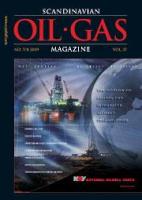 At a Crossroads
Welcome to our Offshore Europe edition. We've put together what we hope will be a useful tool for your OE experience – whether you attend the event or follow its developments from abroad.
The theme for this year's OE is Energy at a Crossroads: Making Choices. The conference is further divided into four main areas: climate and energy, the operating model, breakthrough technologies and people and skills. In addition to focusing on the North Sea province, we've included articles that examine topics in each of these directions.
We begin with interviews, including the Norwegian Petroleum Minister, Terje Riis-Johansen, Lord Hunt of Kings Heath OBE, Minister of State of the UK Department of Energy and Climate Change (DECC). Additionally, North Sea companies are looking to Brazil as opportunities have grown, and we include an article that provides an overview of Brazil's latest developments, focusing on its CEO, José Sergio Gabrielli.
Speaking of developments, we also examine North Sea developments on both the Norwegian and UK sides of the continental shelf. In particular, we have an in-depth North Sea report from Douglas Westwood. Although mature, we see that activities in the region cannot be ignored.
As part of our OE coverage, we have articles focusing on finance that examine aspects such as oil price trends and project funding. From Infield, we have an article that discusses the implications of the current economic conditions for floating production systems. From Ernst & Young, we are reminded that tax issues can be tricky when it comes to decommissioning. An article from Société Générale examines market forces on oil prices, and Dr. Fatih Birol of the International Energy Agency looks at the impact of the tougher financing environment on investment. Taken all together, these article provide insight into current problems as well as some positive expectations for the future.
We've also included a broad slice from subsea developments and activities. Once example is from seabed-to-surface engineering and construction contractor Acergy describes its innovative new ROV. From Expro, we hear about the company's new landing string technology and its benefits for ultra-deep waters. Also, GeoLine describes how its software solution enhances the planning for development of deepwater and ultra-deepwater subsea fields. And there's more.
We've reserved this issue for an in-depth look at pipelines – from manufacture to inspection. Corus Tubes tells us about how their high-frequency induction welded (HFI) pipes can be reeled, leading to lowered costs for installation. When it comes to inspection, we have reports from several companies, including Det Norske Veritas (DNV), which has entered a joint venture with Gassco to develop a new acoustic inspection method for gas pipelines. And we have even more.
READ Group reports on their hydraulically expandable tubular system (HETS) systems, which can be deployed on drill pipe and coiled tubing and will soon be available on wireline. From Verdande Technology, we hear about real-time drilling performance improvement via method called case-based reasoning (CBR) – reusing past experience.
These are just a sample what we have in store for you inside, including news and features that are part of every issue. Enjoy the magazine and enjoy the conference – hope to see you there.