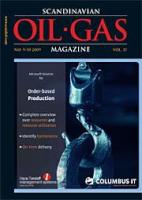 Networking Season
In some ways, post-summer is conference season. It wouldn't be difficult to be on the road throughout October and November and into December. Exhausting, but image the network you could build, making new acquaintances and reinforcing old ties.
Of course, with such a busy conference schedule, you'll need a little down-time as well. Here's where we come in. Whether during your travels on the road or between visits to the conference hall and exhibition floor, we hope this issue can provide some useful information as you recharge your batteries.
From Deloitte Petroleum Services in London, we hear that the North Sea is on the threshold of an economic recovery. Their analysis shows that oil prices began to recover at the start of 2009 as the dollar weakened  and equities strengthened. Now that demand from developing countries has surpassed that of OECD countries for the first time, the article warns of possible pitfalls as the recovery progresses.
Our fall issue has traditionally taken up the subject of safety. And this year is no different.
Capital Safety reminds us that falls while working at heights are all too common. They emphasise that – while safety equipment is important – keeping fall protection and rescue plans up-to-date, active and rehearsed ensures that workers can respond in a timely manner in the event of a fall.
From Seacor Marine and Reflex Marine, we continue the safety thread, with a new passenger transfer class of vessel that is complemented by the purpose-designed 9-passenger Frog. So far, the combo has performed incident-free in West Africa, with around 30,000 passenger transfers.
Safety includes the risky business of keeping workers out of the hands of kidnappers and other man-made dangers, and we hear from the AKE Group that security planning and country intelligence play a key role in keeping employees safe. Their point is that the same level of precise, in-depth knowledge should be brought to bear in knowing about a region's political and social milieu as a company would naturally use for both up- and downstream operations.
Combining both safety and a focus on activity off the African coast, Subsea 7 explains how it combined engineering and project management experience with in-country infrastructure and vessel capability to safely deliver subsea installation activities for Chevron's Tombua Landana Engineering, Procurement, Installation and Commissioning (EPIC) project in offshore Angola.
In addition, we have coverage of how Tørsleff management systems and Columbus IT worked together in the development of a software solution mergeing the functions of Microsoft Dynamics AX and Microsoft Project Server to provide crane manufacturer MacGregor with a new approach to managing its manufacturing processes. Also on the technical side, we have a report from Leistriz examining combustion engine driven twin screw multiphase pumps for offshore applications – a great deal has happened in the area in the last 20 years.
Baker Hughes introduced the GaugePro XPR in 2008, and now they've provided an article that explains how these expandable concentric reamers reduce vibration, resulting in significant cost savings for operators. Be sure to check out how the two drilling programs at their in-house, full-scale drilling rig to prove concepts for vibration reduction.
Whether you find yourself on the road this autumn or following the hectic conference schedule from the office, we're certain that this issue has something for you. And, as always, if you have something for us, please drop us a line.