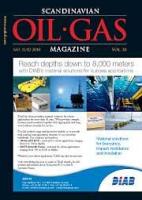 The New Oil
For years, we've been hearing that gas will become the "new oil" – and the revolution in unconventional gas resources has pushed the idea even further. In this issue, we look back over the year that's ending as well as forward to the new year, and much of what we see involves gas.
We kick-off this issue with an interview that fills us in on exploration and production for DONG Energy. We spoke with Søren Gath Hansen, Executive Vice President responsible for Exploration and Production, who tells about the company's E&P portfolio strategy from Danish waters to the West of Shetlands and frontier areas in the Barents Sea and off Greenland's shores.
Head of the Shipping, Oil Services and International Division at Nordea, Carl E. Steen has been a major figure in Norwegian shipping and offshore finance for more than two decades. And this issue includes an interview with Steen before he steps down from his position as year's end. His insights into the changing financial markets, the state of the industry, and the effect of the credit crunch make fascinating reading.
As we move toward the end of the year, we come to expect the annual World Energy Outlook published by the International Energy Agency – as well as the kick-off of the WEO in Oslo – the Autumn Conference – hosted by Statoil. This year's WEO executive summary opens with, "The energy world faces unprecedented uncertainty" which sums up well the present-day energy situation. We include a brief look at the conference, and we – as always – highly recommend visiting the IEA website (iea.org) to order your own copy of the WEO.
Under the heading of government policy and tax laws, we have a look at Greenland's hydrocarbon tax legislation from global taxation specialists activpayroll. The company has been working closely with government officials and is well placed to offer advice to those considering entering that market.
Technology to optimise gas transport is continuously being refined and improved. From Sensornet, we hear how development of distributed temperature sensing (DTS) using fibreoptic cable has improved the accuracy of real-time monitoring of LNG pipelines. Siemens AG Industry Automation division reports on factors users should consider when choosing flow measurement technology, such as multipath ultrasonic transit-time flow meters (UFM), to optimise gas pipeline operation.
Also from UniversalPegasus International, we have an article that speculates about the possibility of the United States becoming a natural gas exporter – something that, until now, we never would have thought possible. The new oil, indeed.
And there's much more. By now you may have heard of Stuxnet, a computer virus of such complexity and size, it's spawned a tsunami of speculation as to its source. Could Stuxnet be the beginning of a new era of warfare? Check out our regular Media article to find out more.
As 2010 winds down and we all have begun to look forward to the new year, everyone here at Scandinavian Oil-Gas Magazine would like to wish all our readers
A Joyous Holiday Season
&
A Peaceful and Prosperous New Year