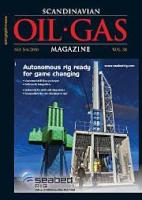 Safety Foremost
The blowout and spill in the US Gulf of Mexico moves safety up to centre stage. Of course, HSE already shares an equal position with the highest levels of project management, but disasters such as the GoM blowout and catastrophic explosion on the Deepwater Horizon offshore drilling platform serve to bring safety issues into sharp focus.
We here at Scandinavian Oil-Gas Magazine want to extend our sympathies to the families of those who lost their lives in the disaster, and our thoughts are with those who were injured.
In our current issue, we include a brief overview of BP's subsea efforts to stop the flow at its source, and we plan to look into other aspects – such as containment and cleanup – in future issues.
Traditionally, our fifth issue of the year – 9/10, distributed in October – spotlights HSE topics, so we invite our readers to let us know about either their involvement in the ongoing efforts in the GoM or about how they can help others to avoid HSE issues and comply with HSE directives.
In this issue we also hear from Russia's National Energy Institute concerning the commencement of activities for the construction of the Nord Stream pipeline. The 2009 edition of the IEA's World Energy Outlook states that the EU's need for imported natural gas was 312 billion cubic meters, while by 2030 this will reach 516 billion – so Nord Stream will do much toward filling this demand.
From SKF we hear about condition based maintenance, and how the company applies CBM tools and techniques to aid in successfully detecting problems at an early stage, enabling repair and maintenance work to proceed with no loss of production.
If you're looking for news about some of the latest technology, we have a fascinating article from Seabed Rig about their development of an innovative drilling rig to carry out unmanned, cost-effective exploration drilling from the seabed, including in deep waters and in arctic areas.
Geology is another focal point in this issue. From Chemostrat, we hear about an integrated chemostratigraphical and sedimentological study that helped to unlock the secrets of the Triassic Skagerrak Formation in the Central North Sea. We also have look into modelling of hydrocarbon reservoirs, all the way down to the pore scale level, from Numerical Rocks.
Is social networking a part of your business routine? Privacy and security have become big topics lately, and our media correspondent looks into these issues as well as censorship at the national level. Be sure not to miss this thought-provoking column.
And that's not all – we sure you'll find something that touches on your interests.
We're well into spring and soon it'll be summer, which means we've begun to prepare for Offshore Northern Seas 2010. Our coming issue will be packed with timely reporting that focuses on many of the same topics that will be examined during ONS. So if you have some news or information that you feel should be brought up at the show, drop us a line!