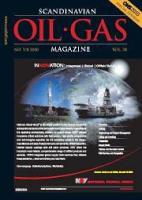 Every fall, we focus on HSE – a long standing tradition here at the magazine. It's never difficult to find topic to cover, but following the Deepwater Horizon disaster earlier this year, oil-spill response has pushed its way to the forefront.
We begin with a look at how – closer to home here in the waters off Norway – even the way the industry talks about spill preparedness and response is evolving. Offshore service vessels that can tackle spills are certified as "oil-spill intervention" (OI) or "oil-spill ready" (OR). From the government to the authorities to industry, the discussion of solutions that are needed and what should be required is ongoing.
During ONS, the presence of Kevin Costner visited Stavanger to promote his company, Ocean Therapy Solutions, which has spent the past 15 years developing a centrifuge technology that could be applied to oil recovery. The Deepwater Horizon disaster subsequent massive oil spill at the Macondo Prospect created an opportunity for OTS to prove its technology in a big way.
The TransRec system from Frank Mohn AS has also been a part of the clean-up in the Gulf of Mexico, and we hear from the company about how OTS' efforts relied on the TransRec oil recovery solution on-board the ship used during clean-up of the extensive spillage.
Also from the GoM, Falck Altec reports how, following the disaster, BP requested personnel to help handling the disaster. Falck had already trained many of the people aboard the exploding oilrig and now BP needed people trained to handle the clean-up.
We also have a look at a recent oil spill disaster on the Norwegian coast, when Bunker oil flooded into the sea as the bulk carrier Full City ran aground outside Langesund, Norway, in the summer of 2009. TESS tells us how their rapid response with equipment and services helped support the containment and clean-up.
But it's not only oil spills that have caught our attention. For example, Acona Wellpro gives us a virtual tour of its Incident Co-ordination Centre, which opened almost 2 years ago outside Stavanger. The centre offers expert on-land support when a company is affected by a crisis. And we hear about mustering and location systems based on technology-based location awareness from S3 ID – as well as safe flarting from Maersk Oil.
From Heller Redo Barroso & Associates, we hear about charting a ship in Brazilian waters – expert advice to navigate the rules and regulations is a must.
Cloud computing to support business activities is examined from an oil and gas industry perspective by EMC – think "PetroCloud".
And these are only the highlights – there's plenty more. Did you attend ONS, SMM, UTC or Rio Oil and Gas Expo? We did – be sure to check out the reviews!
There are a lot of conferences coming up in the next couple of months, and a good conference always brings up new and interesting ideas to ponder. So if you find yourself inspired – let us know and we can help spread the word.