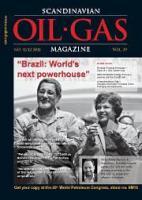 Getting Better all the Time
The year's last issue of Scandinavian Oil-Gas Magazine has traditionally looked back over the year that's past as well as forward to try to find some insight into what lies ahead.
And this year is no exception.
Looking back at 2011, we trace the progression of offshore discoveries that have had a high impact on the reserve outlook for the Norwegian Continental Shelf. Although now considered mature, the NCS has shown that it still holds some surprises. Not since the 1997 Ormen Lange discovery have we seen this much excitement, with Aldous Major and Avaldsnes rivalling finds the great North Sea oil discoveries of the 1980s. And that's not to mention Skrugard, which emphasises the importance of new acreage in the high north.
Among our forward-looking articles, we've included an overview of the larger projects expected to dominate the headlines in 2012. Energy companies are expected to spend about NOK 172 billion – that's 23 billion more than this year.
We also hear about unconventional gas – the established and key developing markets of shale gas, coal bed methane and tight gas – and it's role in the months and years to come. The global unconventional gas industry is expected to boom over the next decade and Douglas-Westwood advisors forecast a considerable increase of demand for the service industries.
The Technology Outlook 2020 from DNV reminds us that the age of "cheap" oil is coming to an end. Emphasising technology evolution over revolution, DNV asserts that to tackle the challenge, the coming decade will be one of transition, in which we'll see fast-paced development of new oil and gas technologies.
This issue also includes an interview with Tore Morten Olsen, Marlink's CEO, who tells us about how his company works to provide communications solutions to the offshore oil and gas industry.
As always, we have some specific technologies and services, such as the AX-S subsea well intervention system offered by Expro. AX-S can be deployed from a mono-hull vessel – and is the world's first intervention technology that can operate in depths up to 3,000 metres – which covers every subsea well across the globe.
Tendeka tells about some of their solutions to control and manage sand, reminding us that failure to address sand production correctly will impact heavily on productivity, well life, completion equipment life and safety due to eroding surface equipment.
In addition, we hear from RBG about their commissioning services, and Trelleborg Offshore relates how Elastopipe™ offers a corrosion-free alternative to conventional metal pipes. And these are only two examples – there's quite a bit more technology this time around.
Also, as mentioned earlier, we saw a strong upturn in North Sea activity this past year, matched by increased capital investment and a rise in drilling activity. One result is a renewed focus on recruitment and retention of a skilled workforce. From OilCareers.com, we hear how they help employers and job seekers find one another.
And that's not all. Everyone should find something of interest – or at least a tip for your holiday shopping.
We're all looking forward to the new year – of course, we have the holidays to enjoy in the mean time – so everyone here at Scandinavian Oil-Gas Magazine would like to wish all our readers
 A Joyous Holiday Season
&
A Peaceful and Prosperous New Year