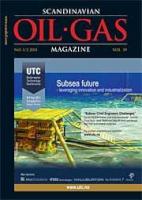 Out With the Old...
It's a new year with new possibilities.
Thankfully, we've begun to see increasing activity offshore, and many agree that this year will see even more. Traditionally a primary focus of this first issue of the new year is toward upcoming activities, and this time around it hasn't been difficult to list what 2011 is expected to bring.
We've looked into record-high investments on the Norwegian Continental Shelf – a second straight best-ever year of spending is on the books. As much as NOK 151 billion could be spent this year, more than NOK 10 billion over last year's totals.
Mid January marked the offering of 50 licenses in the culmination of the awards in predefined areas (APA) 2010 round – another example of the potential for growth on the NCS. Both the Ministry of Petroleum and Energy and the Norwegian Petroleum Directorate voice satisfaction with the level of interest from companies large and small, including two newcomers. We've included a look at where these awards in mature areas lie on the NCS, and hear the response from a few of the companies that have received offers.
We begin our focus on decommissioning with a synopsis of Douglas Westwood's UKCS Offshore Decommissioning Market Report 2010-2040. The report reveals that the potential value for decommissioning projects located on the UK Continental Shelf could possibly be in excess of USD 30 billion over the next 30 years. Yet another area of growth.
We also hear from Decom North Sea (DNS), whose goal is to stimulate the supply chain to secure the sizable opportunities of the growing decommissioning field. DNS works primarily on the UKCS, but has set its sights at opportunities across the North Sea.
But decommissioning activities are growing on the NCS as well. We also hear from SafeClean AS and Scomi Oiltools, who have begun to offer their services in support of the growing decommissioning market closer to home.
We've also looked into some aspects surrounding drilling.
From NeoDrill, we hear how the concept behind the suction anchor has contributed to the company's development of the Conductor Anchor Node – CAN – which provides a stable, secure foundation that eliminates the "weak link" in current well design. NeoDrill's CAN has been successfully deployed in drilling assignments on three NCS fields, and
We also hear about the SwellFix Packer, a swellable elastomer packer that provides isolation requirements, even in the tight restrictions of the planned well bore. Tendeka describes how the packer was deployed to successfully assist with a non-standard, sidetrack completion.
Aberdeen Drilling Schools (ADS) relate how they provide "Training at the Deep End", offering two well engineering courses focusing on deepwater and HPHT wells.
We also hear from Infield, with an excerpt from the Offshore LNG to 2016 report, that outlines how natural gas is expected to represent a growing proportion of the world's energy mix, marked by increasing demand in the coming decades.
And there's more – more technology, more news, more coming events.
Take a quick glance at our Calendar Page and you'll see there's plenty of conferences coming up in the coming months, all providing more opportunities for our readers to spread the word about how they've contributed to the growth in industry activity.
And as we move towards spring, we'll be working towards our next issue that will be distributed at – among others – OTC in Houston as well as Nor-Shipping here in Norway. If you have some news you'd like for us to include, don't hesitate to make contact.