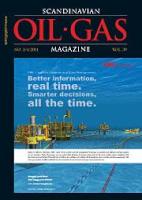 Mark Your Calendar
Spring has arrived, and as we've been thawing out here in the north, we've been hard at work to put together this edition of the magazine. This is the time of year when we prepare for the annual Offshore Technology Conference (OTC 2011), but it's also a year when the biannual Nor-Shipping takes place. In addition, the Underwater Technology Conference (UTC) has become an annual event, so there's quite a lot happening this spring.
We kick off this issue with a look to the Americas. On March 18, US President Barack Obama visited the new Brazilian President, Ms. Dilma Rousseff. One result of the meeting was a pledge that the United States would be a "major customer" for Brazilian oil in the coming years. We have an article that examines the visit between these heads of state of two of the hemisphere's giants in the context of the massive pre-salt discoveries off the shores of Brazil.
Continuing in the Americas, we have a preview of OTC, including a look at this year's OTC Distinguished Achievement and Spotlight on New Technology Award winners. As always, tens of thousands of industry leaders and buyers from more than 130 countries are expected in Houston at the beginning of May. That's quite a crowd, so if you see us there, be sure to say hello.
As part of our coverage of Nor-Shipping, coming up later in May, we have an interview with Sturla Henriksen, Director General of the Norwegian Shipowners' Association (NSA). The NSA has worked to secure Norway's role as a major force in the global shipping industry since 1909, and Mr. Henriksen fills us in on the latest concerns and issues that shape the shipping industry's current outlook.
In addition to previewing what we can expect from Nor-Shipping, we have an article from ClassNK that describes the company's efforts to tackled the challenges of developing guidelines for the floating liquefied natural gas FLNG sector. We also hear from ABB about their hybrid diesel electric drive technology that's found a market with STX Brazil, where it will be used to drive two of their newest anchor handling tug support vessels.
We also include a look at the Middle East and North Africa, where the continuing civil unrest and turmoil (to put it mildly) has raised concerns for the energy sector. AKE advises companies to review their contingency plans, asset security and staff preparedness as the situation evolves.
And that's only a start. We also hear from Trelleborg Offshore concerning syntactic foam insulation, which has been used in the manufacture of diving bells for improved safety, easier operation and better working conditions at extreme depths. Tata Steel – Europe's second largest steel producer – describes dimensional control in manufacturing UOE pipe. And Zenith Oilfield Technology presents its Z-Sight technology for real-time well data management. There's much much more…
To help you plan your late spring, we've taken a look at the upcoming UTC, which has now become an annual event. For two days this June (not counting the pre- and post-conference activities) Bergen, Norway, will be the venue for more than 600 delegates – as well as more than 50 exhibitors – who are expected to attend year's UTC. The event is noted for attracting highly competent speakers on current and important topics regarding the subsea industry, so now is the time to register to be part of the technology-focused audience from all parts of the international petroleum community.
And this is only a beginning for our UTC coverage. Our next issue, which will be distributed at the event, offers the opportunity for you to get your message to the UTC audience. Drop us a line!