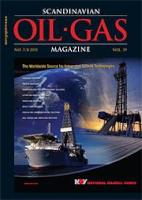 World Wide
Early in August, 20 years ago the World Wide Web was born in the CERN laboratories in Geneva. We've all benefited from Tim Berners-Lee's vision to bring together hypertext and the Internet together in a system where we make our thoughts and ideas (and products) available to the world – and that's without taking into consideration other Internet tools such as email, instant messaging and video conferencing.
As social beings, we humans have created an online society that has made doing business more quick and efficient than ever. But sometimes we need to meet face to face. So in this issue we've worked to provide you with information that will make your trips to Aberdeen for Offshore Europe and to Rio de Janeiro for OTC Brasil even more affective.
We start with interviews with key individuals in the industry. We spoke with Torstein Sanness, Managing Director of Ludin Norway; Svenn Ivar Fure, SVP Technology, Strategy and Manufacturing & Power, Processing and Boosting, at Aker Solutions; and Statoil's SVP for Technology Excellence, Siri Espedal Kindem. It's been said that the Norwegian Continental Shelf is mature – but it's certainly not over the hill, considering the ongoing exploration, new fields and developing technologies.
Next, we have interviews with Charles Hendry, Minister of State at the UK Department of Energy and Climate Change, and Ola Borten Moe, Norway's Minister of Petroleum and Energy – and it's probably not surprising how they view activities stretching across both sides of the North Sea.
Standing in the middle, a partner to industry and the authorities, is Petoro AS, the state-owned enterprise that handles the State's direct financial interest (SDFI) on behalf of the Norwegian State. Petoro has been in business for 10 years – another anniversary – and we have an interview with Kjell Pedersen, Petoro's CEO, about the company's past, present and future.
We've also woven a web of features from around the world – all showcasing technical expertise and knowledge. We have far to many to list here (take a look at our Contents pages), but there's certainly something of interest for nearly everyone.
Offshore Europe – with its "Securing Safe, Smart, Sustainable Supply" – is certain to be yet another excellent opportunity, with its extensive programme focusing on the latest technical developments and thinking in the upstream world. New to this year's OE is the "Deep Water Zone", a brand new dedicated area focused on the industry's deepwater achievements, technologies and solutions.
This is the first time out for OTC Brasil, which is Offshore Technology Conference's first event held outside of Houston. We're sure that it will be everything we've come to expect from OTC – a technical program and exhibition that addresses the latest in technical advances and challenges – but with a Brazilian flair, tailored to the deep and ultra deepwater offshore sector in Brazil.
Following these all-too-brief previews of Offshore Europe in and OTC Brasil, we've gathered features that focus on oil and gas activities in the North Sea and offshore Brazil.
Good background information is important as you cast your net – or stretch your web – to make new contacts, develop new relationships and cement agreements. We hope you find these sections that useful as you attend these events.
We'll be at both Offshore Europe and OTC Brasil, so we hope to see you there as well!