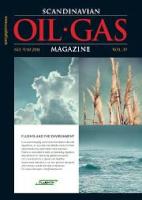 Safe, Secure
Although a day shorter this year, the Offshore Europe Conference and Exhibition that took place in early September managed to pack four days worth of information and excitement into three. And it took quite some time to digest it all. Of course, we have a quick look back at Offshore Europe.
And as part of our OE coverage, we've included an interview with Matt Corbin the GE Oil & Gas regional leader for United Kingdom and Continental Europe – Drilling and Production – who describes his company's latest triumphs in the UK sector of the North Sea. Subsea systems tied back to existing infrastructure mean that more and more smaller fields will come online at an ever quickening pace.
Our autumn edition has traditionally had a strong focus on safety. And this year is no exception.
From Hansen Protection we hear about the SeaAir suit that provides protection during helicopter transport and as a survival suit in the event of a helicopter emergency landing on water. The company has now introduced SeaWind, a suit that's specifically designed to meet the demanding requirements to protect the personnel performing the maintenance and inspection work on the offshore windmills.
From Reflex Marine we've included a list of the ten "Golden Rules" developed by industry initiative that ensure safe crane crew transfers.
S3 ID has provided a look at latest developments in high-security ATEX certified Zone 1 electronically controlled door locking solutions that are designed to protect critical infrastructure,
assets and personnel from attack. Whether onshore or offshore, access control can be achieved by the press of a button.
These a only a few from our safety focus, but there's more that's captured our attention this time around.
Ultrasonic Flare Gas Meters are today's accepted means of measuring flare gas today – primarily because not interface with the flow of gas and can operate in both high flow and low flow environments – and Fluenta describes how their "one size fits all" philosophy provides the greatest accuracy.
Measuring flow from within a inside a producing oil and gas well has never been easy, and from Aker Solutions, we hear about the company's reliable logging while tractoring (LwT) technology that makes it possible to take readings in real-time, when the well is flowing.
And there's more. Centek also presents its Under-Reamed Off-Set centraliser; Leistritz discusses twin screw multiphase pumps; and Tracerco examines platform flooded member inspection techniques – to mention only a few.
This issue's Media article takes a look back twenty years to the beginning of the World Wide Web. The Web has made an entirely new way of sharing information possible, and it's interesting to see that while the web browsing has become more complex and sophisticated, the "look and feel" of the earliest web browsers is not so different from what we experience today.
And in the middle of this issue we've place our Media Plan for 2012, which you can easily remove to help with planning the year to come. Of course, the Media Plan will also be available online, so you can access it via your Tablet or Smartphone.
We've included a broad range of possible topics for the coming year. Be sure to drop us a line if you see a possible fit for the information you'd like to get out to our readers.