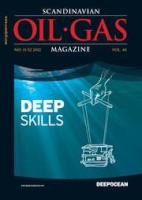 Conserve Your Energy
Here we are again at the end of an exciting year, as we wonder where the year has gone. Each year seems busier than the last, which, of course, contributes to how fast the time flies. 
But this, much like each year before, has had its share of events that have kept the industry and us very busy. Our NCS project survey in this issue takes a look at where the big money will be spent in the coming year, which looks to be another record breaker. 
Across the Atlantic, Petrobras appointed a new CEO earlier this year. A 31 year veteran of the company, Maria das Graças Foster earned a well deserved reputation as hands on tough administrator, which she now puts to good use to steer Petrobras out of rough waters and toward better times.
This year's World Energy Outlook from the International Energy Agency has, as always, created a stir. We've included a report from the Autumn Conference here in Oslo, hosted by Statoil, the IEA and the Ministry of Petroleum and Energy. Oil production in the United States, energy efficiency and targets to mitigate climate change were a few of the topics of the day. The WEO is a must-read for anyone with a stake in the energy sector.
Considering the scope of maintenance activities at a typical refinery, it's not surprising that backlogs are possible. From T.A. Cook, we hear about how prioritising critical repairs and maintenance to prevent backlogs ensures optimum output and safety levels. 
We spoke with IFS Scandinavia CEO Glenn Arnesen to find out more about how his company's Enterprise Resource Planning (ERP) software can assist the oil and gas industry track and control long-term management and maintenance of assets. IFS Applications enables companies to embrace end-to-end processes.
This issue also includes at optimising floating production storage offloading vessels (FPSOs) for duty in Arctic regions. As oil and gas activities move further northward, BMT Argoss tells us how optimising the design, operability and safety of FPSOs for Arctic conditions must be duly considered. 
And there's more. This issue includes topics from flow assurance to contract benchmarking, from power generation to offshore air compressors – as well as managing crew changes safely and efficiently. From Swagelok we hear about the latest trends driving the valve market, and from LB Bentley about the importance of design for subsea valves. 
Have any gadgets on your Christmas wish list? Be sure to read about the ones we've been thinking about (are you listening, Santa?). 
It seems that December is always a month for relaxing with family and friends, and we hope you have a chance as the year closes to recharge your batteries before the New Year arrives. But, if something comes to mind before the holidays, be sure to let us know, and we'll follow it up in the coming year.
And we're looking forward to the New Year, with excitement, as the magazine will be celebrating its 40th anniversary. Be sure to check in – each issue will include something special to help celebrate.
I'm sure I speak for everyone here at Scandinavian Oil-Gas Magazine, when I say that we hope all our readers have
A Joyous Holiday Season
&
A Peaceful and Prosperous New Year