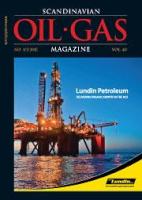 Confidently Optimistic
We closed out 2011 with optimism, following some remarkable finds on the Norwegian Continental Shelf – and we seen even more to be excited about this January, with a huge gas addition in the neighbourhood of Snøhvit in the Barents Sea.
But it's not only the big impact discoveries that have been happening in the last year. We've also seen resurgence in development – and in confidence.
And several examples of this confidence are examined in this issue.
From the new CEO at the DeepOcean Group, we hear about the newly formed Group's experience – based on the successes of subsidiaries DeepOcean A.S. and CTC Marine Projects – is instrumental in filling its order books for inspection, maintenance, repair and decommissioning services.
We also have spoken with Henrik Johnson, General Manager of the Scandinavian division of Proserv, about how the company has evolved, via its new structure and brand identity, to strengthen its capabilities, service offering and global reach. The new Proserv – a production technology and services company for the energy industry – builds on the expertise garnered through more than 35 years of experience among the five companies that now make up the Group.
Also, from Stork Technical Services, we have a look at how following the acquisition and subsequent rebrand of RBG Limited, the company now has the experience, expertise and skills to deliver a unique service offering that meets both the projected increase in decommissioning operations and potential step-up in reuse activity.
And to help it all go smoothly, we hear from Petrotechnics, provider of complete, open, and integrated frontline work execution and operational risk management software. Managing operational risk and improving line of sight on operations are ongoing challenges for the oil and gas industry, and Petrotechnics enables business process improvement to mitigate operational risk.
Another theme in this issue is pipelines – from installation to maintenance.
Wagenborg Nedlift – a specialist in the area of horizontal, vertical, and special transport – tells about import focused, unified logistics is in the construction of pipeline mega-projects. Imagine what goes into making sure that 26,908 pipes are delivered to where they are needed, when they are needed.
From FoundOcean, we hear about the importance of grouting to pipeline projects, including securing structures to the seabed via foundation grouting, pipeline and j-tube grouted fabric formworks supports, strengthening flooded jacket members using high strength grout, grouted pipeline repair clamps.
Last year's increase in oil prices and growth of activities on the NCS also meant more income for the Norwegian state. For last year, 2011, the income taxes for oil is expected to be somewhere between NOK 200 and 250 billion. KPMG Law explains that although the petroleum tax rate may be high, tax relief incentives for exploration have helped to pave the way for the giant finds that have fuelled our current optimism.
Now that we're winding down with this issue, we're already starting to gear up for the upcoming Offshore Technology Conference in Houston, so if you have something you'd like to tell our readers – whether they're attending OTC or any of the other great upcoming spring conferences – drop us a line!