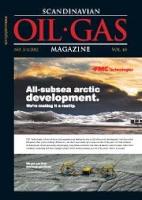 The "T" is for Technology
You may be reading this issue while taking a break from everything that's happening at OTC in Houston. If so, we're glad you found us here.
For everyone else, we're also pleased you've pick us up, whether it's at work or while visiting one many conferences offered this spring.
One of the highlights of this issue is a quick look at this year's Offshore Technology Conference, including an overview of the Spotlight on New Technology winners – as well as the OTC Distinguished Achievement Award winners. There'll be plenty to do and see in Houston during OTC week, and we've tried to offer a quick taste of what OTC is all about.
Our OTC coverage includes contributions from several companies that will be exhibiting during the conference, so be sure to pay them a visit as you check out the exhibition.
Subsea compression is just around the corner, and we kickoff this issue with a look at Aker Solutions' efforts that have made this challenging technology a reality. Statoil's Åsgard field is slated to be the first to see this recovery increasing technology in place.
We also include articles that focus on enabling technologies developed by smaller, newer companies here in Norway. From Quickflange we hear about the company's plans to offer its cold-work solution – which delivers a secure, leak-free mechanical and pressure-tight connection – for use subsea. We've also been in contact with Blue Logic and have heard about their innovative Stab technology that not only makes ROV maintenance possible at full pressure, it ensures zero leakage into the environment.
From BP Norge we hear about the company's work with digital oilfields has progressed since they first installed a fibre-optic communications link at the Valhall and Ula fields in the North Sea in 1999. Now, these "Field of the Future" technologies have been implemented at the Skarv development.
If you're interested in geology, we have you covered as well. "Geological Expression" is the term used by ffA to describe how their software solution works to aid in seismic interpretation. ffA's GeoTeric software, with 3D seismic analysis and sophisticated multi-spectral visualisation, can reveal the geology which is "expressed" but may be hidden in the data. And from Chemostrat, we hear how rhenium-osmium isotope geochronology can be used to increase our understanding of petroleum systems.
Everyone needs a consultant to help steer unknown waters. From activpayroll's global expatriate tax team, we have an article that examines recent changes to two key tax requirements for those working on the Dutch Shelf. On a different route, but every bit as important, we hear from BMT Cordah about addressing the complexities of undertaking Environmental Impact Assessments (EIAs) and how a specialist can help address the challenge of applying best practice while avoiding inherent pitfalls.
And of course, there's much more.
So, keep an eye out for one of our team at OTC. And whether you run into us there or not, be sure to let us know if you have any news you'd like us to bring to our readers over the coming months.