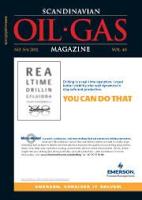 From Peak to Peak
The Offshore Technology Conference – OTC – in Houston is always an exciting event and high point of the year. And this year was no exception. For us, you could say that OTC marks the beginning of summer, when we from the north can get a taste of warmer weather before our summer arrives. But even more important, OTC is an event that inspires us as we begin our summer work that leads us to this year's Offshore Northern Seas – ONS – another high spot in late August.
Later in this issue, we take a look back to OTC – hopefully we've managed to capture a bit of this year's excitement.
After nearly two months, the gas leak at the Elgin field has been stopped. We kick off this issue with a look at the incident from blowout to top kill.
It's been four years since the credit crunch shook the industry, and while drilling rig building took a hit in the early days, it wasn't long before demand outweighed uncertainty, shoring up investor confidence. We've included a look at the rig market that focuses on the contracts and shipyard orders for newbuilds – and the market looks good.
And – as always – we take a look at some of the technologies that makes this industry so fascinating.
From Tata Steel, we learn about the challenges of creating the pipe-in-pipe systems that are needed to transfer the multi-phase products from high pressure/high temperature (HPHT) wells. Managing the inherent extreme pressures and operating temperatures leads to issues such as corrosion, maintaining structural integrity and thermal management, for which Tata Steel has created cost-effective insulated pipe-in-pipe bends for risers and spools.
Increased recovery rates is always a hot topic, and from Emerson Process Management, we hear about the Roxar RMS 2012 reservoir modelling tool that provides geophysics visualisation and field planning that lead to extended field life and improved recovery rates.
Viking SeaTech tells us about how its research and development department has worked to come up with new processes to improve the technologies for mooring preparation and planning operations – with the aim of improving functionality and efficiency to keep pace with the industry demands.
Communications are key for every facet of business. For subsea operations, and for drilling in particular, real-time bandwidth-intensive data communications are a must. Harris CapRock tells us about building subsea networks to support real-time transmission of drilling and platform data for communications with a project's headquarters.
Our update of Russian oil and gas licensing from Deloitte Petroleum Services in Moscow examines how companies' interest in developed areas versus less-explored areas accounts for uneven response to licensing offers.
And there's more – from the Facebook IPO to floating LNG to the future of power generation – and more.
So, as we ease into summer and as the days grow longer (and as we're working to complete this issue), we've begun to plan for ONS – that will take place near summer's end.
It'll be a busy couple of months as we ramp up for ONS – and we'll be taking a break or two along the way – but we invite you to let us know if you have any news you'd like to include in our ONS-focused issue.