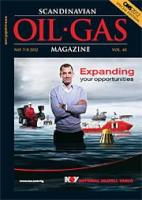 Face to Face
Working towards our special ONS edition is always busy, but that's because, in part, because we meet so many interesting people. In a way, putting the ONS edition can be quite like the conference itself. We've been in contact, by phone, by email and face to face with individuals who help to make the industry so fascinating.
The issue's first interview is with Jane Owen, the British Ambassador to Norway. Ambassador Owen's Foreign Ministry experience has made her keenly focused on trade and investment issues, and she explains how the Embassy works to promote cross-border trading relations between Britain and Norway.
Next we hear from MP Charles Hendry, Minister of State for the UK Department of Energy and Climate Change, who agreed to respond to a few questions about topics concerning oil and gas activities on the UK Continental Shelf – as well as UK-Norwegian co-operation, carbon capture, and renewables.
MP Hendry's Norwegian counterpart, Ola Borten Moe, Minister of Petroleum and Energy also met with us over the course of the summer. Very much a "hands-on" Minister, Borten Moe has travelled extensively and when we spoke, was preparing to host colleagues from petroleum countries of the High North and top industry leaders in two Conferences in Trondheim, where he planned to discuss offshore safety and sustainable petroleum activities in the Arctic.
Tore Halvorsen – Senior Vice President of Subsea Technologies at FMC Technologies – has agreed to meet with us many times in the past, and as we've come to expect, the thirty-two year veteran of the energy industry was keen to share his insight into where the industry stands and how FMC Technologies is working to realise his vision – a "Subsea Roadmap" – for the future of subsea oil and gas fields.
And we've also been in touch with those who are focused on the specific, innovative technologies that make this industry so dynamic and interesting.
From Alan Dobson – the Research and Development Manager at DUCO Ltd, the technology and support centre for Technip's umbilical division – we hear about their exceptional capabilities.
Pasi Lehtonen is Senior Vice President of Cargotec's Offshore business segment, and we spoke with him about how since that time, his segment has been quite active with new contracts and a joint venture with a Chinese manufacturer.
We also hear from Eirik Simonsen, the Global Flow Assurance Group Manager for Bredero Shaw based in Sandefjord, Norway, about how his group and company work to provide specialised pipeline coating systems and related services.
We also spoke with Benny Carlsen, Vice President for the North East Region, about how Viking Life-Saving Equipment works to ensure the safety of those working in offshore oil and gas, especially those in harsh environments such as the North Sea and Arctic regions.
From Intergraph, we spoke with Gerhard Sallinger, President of the Process, Power & Marine (PP&M) division, about the company's global strategic direction and overall business development as well as how Intergraph engineering solutions work to help users increase productivity and gain a competitive edge.
At the heart of it all is a preview of ONS, and the preview's heart, we have an interview with the new CEO of ONS, Leif Johan Sevland. Sevland's enthusiasm for the ONS Conference and Exhibition was apparent as he told us a little about himself and what we should expect from this year's event.
So be sure to have a great show. We're looking forward to seeing you there. Be sure to visit us in Hall H, 859!